La La Land from the Perspective of a Cynical Angeleno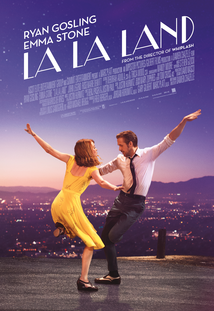 Hang on for a minute...we're trying to find some more stories you might like.
7 Golden Globe Nominations. 14 Academy Award Nominations. 1 almost Best Picture Win. La La Land, the 2016 musical, romantic, dramedy directed by Damien Chazelle, rocked the Hollywood boat by reinvigorating the movie musical genre in a quirky, artistic and overtly nostalgic way. Let me start by saying, I didn't dislike La La Land. In fact, I walked into the movie wanting desperately to like it. Unfortunately, it struck a sour chord. The movie itself was entertaining; it was a masterful blend of fantasy and reality, of humor and heartbreak, of musical and drama. However, the characters themselves were grasping at straws when it came to being relatable. Both failed to come off as real people, but rather what a Hollywood executive expected the infamous "real person" to be like, and it reflected poorly. Ryan Gosling and Emma Stone star as Sebastian and Mia, two mid-late twenty-somethings looking to make it big in the City of Angels, with one hoping to open a swinging jazz club and the other to become an A-list movie star. Both characters are laughably quixotic, annoyingly nostalgic, and frustratingly pretentious. Sebastian, the poetically cynical musician, is a man who doesn't believe in social standards and tries to break out of his tortured soul by ruining his only career option because he had to be a special snowflake for the 1 hour set. Meanwhile Mia, the aspiring actress who works as a barista (a cliché for the ages), spends her time drooling over Ingrid Bergman films and the way the industry "used to be," as though the 1930's-40's were the prime real estate for joy and social balance. Granted, Stone's portrayal of the character was well received, and rightfully so; she superbly portrayed a shy woman hoping to break out into the business she'd loved since childhood, receiving an overflowing and well deserved praise. But the issue stands: spectacular cinematography and artistic innovation are one thing, yet charming and relatable characters don't come in the package.