Nothing Wrong with Being Different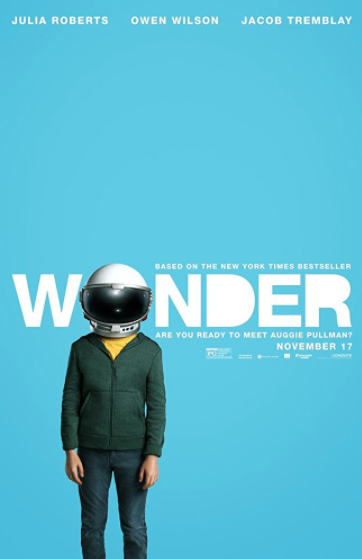 Hang on for a minute...we're trying to find some more stories you might like.
"When given the choice between being right or being kind, choose kind."
– Dr. Wayne W. Dyer, Mr. Browne's September Precept, Wonder, Page 48
R.J. Palacio's novel Wonder came to life on the big screen on November 17th, shining a light on August "Auggie" Pullman, a ten-year-old with Treacher Collins Syndrome. After years of being homeschooled, entering into the daunting new environment of middle school pushes Auggie out of his comfort zone. In addition to being the new kid in school, having Treacher Collins Syndrome makes him stick out like a sore thumb. This genetic disorder, along with the string of surgeries that helped keep him alive, makes him look and act differently than his peers – and sometimes, different can be scary. Auggie faces bullying and feels frustrated being the odd one out; however, he makes friends throughout the year who accept him for who he is and not simply out of pity. Interviewing junior Caroline Hawley, co-founder of the Ability Awareness Alliance (AAA) here at Marymount, I asked her how we, the Marymount community, can increase our awareness of people with disabilities.
What inspired you and Kate to start the Ability Awareness Alliance?
We were inspired to start the AAA because Kate Scibelli and I were both counselors at a non-profit organization called RAD Camp. RAD Camp is a camp for adults and children with developmental disabilities, such as Down syndrome and cerebral palsy. We wanted to take our experience at RAD Camp and help promote awareness and inclusion for people with disabilities.
How do you plan to raise awareness about disabilities through the AAA?
Kate and I plan to have thought talks, speakers, and announcements at Community throughout the year to reinforce that people with disabilities are just like us, and should not be treated any differently.
How will you advise students to treat people with disabilities?
People with disabilities are often perceived as either stupid or cute. Many people make fun of people with Down Syndrome for how they look or talk –  only a minority of us see them as simply human.
What do you plan to achieve through the AAA?
We hope to promote widespread acceptance of people with developmental disabilities, starting with Marymount. We want to make an impact on our community, perhaps by driving to work with disabled people to illustrate that they are normal humans, just like us.
What is your overall message about disability awareness?
We should not view or treat anyone who looks different than us in a heinous way. If someone has an extra chromosome, well, that just makes them extra awesome!