Whodunit?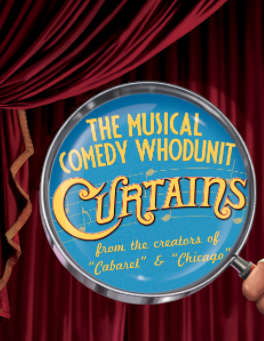 Hang on for a minute...we're trying to find some more stories you might like.
Shocking murders, a love triangle, and spectacular singing and dancing; what more could you ask for?
Marymount High School's production of the musical Curtains combined a comedic show-within-a-show and a "whodunit" murder mystery to create a crazy whirlwind of wonderfulness. Set in Boston during the 1950s, Lieutenant Frank Cioffi has come to interrogate the company and crew of the western musical "Robbin' Hood." Why? Because the leading lady has ended up dead, and everyone is a suspect. As two more murders occur in the theater, Cioffi must both solve the mystery and fix the lackluster "Robbin' Hood" before the curtain rises on opening night. Will Cioffi be able to catch the killer, or will it be curtains for him, instead?
The Marymount Players have been hard at work for the last eight weeks – the cast learning their blocking and lines, the crew building and painting the sets and props, and the orchestra practicing the music – culminating in a grand spectacle on March 9th, 10th, and 11th.
Praised by many audience members as being "one of the best Marymount productions so far," Curtains kept everyone on the edge of their seats as they made their own speculations about who the murderer was. With growing suspense and mind-boggling plot twists, the audience was transported from "Kansasland" to Boston and back again, making for a wildly entertaining ride.
With beautiful costumes and palpable energy, the actors were dazzling onstage. While show-stopping production numbers such as "Show People" and "Thataway" highlighted the joyfulness of theater, emotional songs such as "I Miss the Music" and "Coffee Shop Nights" touched the hearts of every audience member. As the curtains close on this production, the cast, crew, orchestra, and production assistants will be remembered for their dedication, talent, and camaraderie – and this show will undoubtedly be one "Tough Act to Follow."