Senior Spring Season Cut Short
Stephanie Sowa '21, Athletics Section Editor
May 18, 2020
Our Marymount senior athletes could never have anticipated their high school athletic careers would be cut short by the COVID-19 pandemic. These talented athletes who have participated in the spring sport program for multiple years at Marymount acknowledged that while it is difficult to leave such a treasured aspect of school behind on an abrupt ending, they are grateful for the positive lessons their sport has taught them and for the ways they have grown as athletes. These young women are fabulous role models who recognize the many gifts they received from participating in their sport at Marymount and they will forever be remembered as the brave and brilliant Class of 2020 who faced the global pandemic with grace and resilience.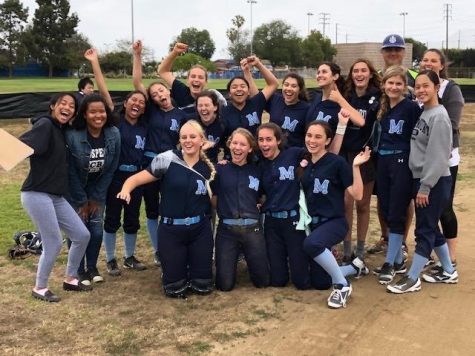 Mary Cooper, a member of the Varsity softball team at Marymount for her 4 years of high school, speaks of the sport with such passion and excitement. She believes softball is one of the most special team sports and argues that it is absolutely crucial that every athlete plays an active role in creating a strong unit. "This, of course, includes cheering at the top of your lungs. I feel this is also true of life- working with others is so important!" Mary discusses as she acknowledges the impact of softball on her life outside of being an athlete. She recognizes the importance of understanding everyone's strengths or weaknesses, and then to embrace them: this has allowed the sailor softballers to be a contender in league play-offs for their past two seasons. When I asked Mary about her favorite memories of being on the team, she said, "Playing with my sister when she was a senior and I was a freshman is a highlight for sure!" She recalls after-school practices and team bonding activities always led to so many laughs. Whether it was mini golf, a beach bonfire, or karaoke, the group never failed to create a positive atmosphere. As the coronavirus has forced Marymount to utilize online learning, many athletes including Mary are understandably disappointed about their season. But Marymount sailors refuse to let this epidemic damper our spirit. Mary shares that, "the rest of the team has gone out of their way to plan a virtual senior night on zoom showing that our bond is truly unbreakable. These past four years have truly flown by and this team has become my family! Sailor softball sisters forever!" Mary is an absolute star, constantly radiating positive energy wherever she goes. Everyone is so proud of you, Mary, as well as the entire softball team, go sailors!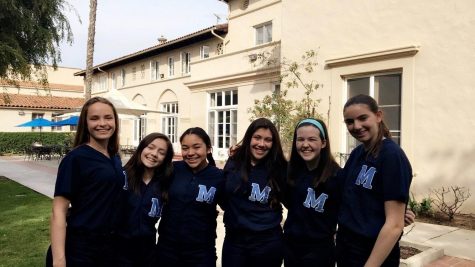 Another senior on our beloved softball team, Devin Waddell, has been playing this sport since she was 7 years old alongside one of her best friends, Mika Jefferies. Devin has devoted countless hours to this sport which allowed her to build her character, grit, and the confidence she exudes today. Devin was completely honest about her experience: yes, softball has opened so many doors to her, but no journey is perfect. She explains that it can be easy to lose sight of how to play the game for herself. As I asked Devin what softball has given her throughout her life, she answered, "it's given me my best friends, opportunities to travel all across the country, and most importantly… a passion!" She emphasizes the importance of forming and strengthening relationships with other people amidst playing a demanding sport. It is not what exactly occured on the field, it is what was taken away as a lesson. Devin reminisces about the memorable conversations with her dad to and from her softball lessons and her mom making sure Devin had a hearty breakfast of eggs before a game. Devin is understandably deeply devastated that she could not experience her senior season, but she has learned so much about herself playing for Marymount and she expresses her gratitude for such a loving and connected team. Devin reflects, "These girls, particularly my "s-ballers," have experienced with me more craziness and laughs then we could have ever imagined. So despite senior season coming to a far too early end, I want to thank my team for the best high school career imagined." Her 11 year softball journey will not end in high school, however. Devin is committed to Cornell University where she will further her career as a student-athlete. Everyone at Marymount is thrilled for you, Devin, and we are so grateful to have watched you grow as a person and an athlete.
Allie Longo, a member of the track team for the past four years, shares her experience joining the team. She was not an experienced runner, but she made the team her freshman year. Nerves overcame her before beginning her training, but she recalls how kind her coaches were and how learning the mechanics of running are extremely crucial to a beginner. Thankfully, other freshmen were alongside Allie to help settle any anxiety. As Allie talks about her first season, she says, "That year I met and became friends with Samara, who would end up being my track sister for all four years. The following years were just as amazing as the first, all consisting of a lot of time and hard work, but always worth it." Allie expresses gratitude for the "countless meets, afternoon practices, and VERY early morning practices," because they created an unbreakable bond between the teammates and pushed each one of them out of their comfort zone in a positive way. Allie has learned that playing a sport truly leads to self-discovery: when you learn about a sport, you learn about yourself. There was a lot to look forward to as a senior athlete. Allie explains that seniors "lead warmups and design the track gear," and that she is extremely grateful to have done so, even if it was for a shorter time than she expected. Allie speaks of her teammates with such kindness and emphasizes that meeting girls from all different grades was very special for her. Not only did the teammates make track so memorable, but Allie emphasizes the role of Coach Lasan during her experience and how much she will miss his presence. Allie explains, "Lasan has been the most amazing coach I could have ever asked for, he is so supportive and encouraging and his positivity is contagious. He taught me so much about track and running and always told me that it isn't about winning, it's about bettering yourself… He helped me learn so much about myself and how to have a positive outlook on life and to never give up, no matter what. Oh and of course I am going to miss his iconic bread, and his secret chickpea nuggets!" The athletic community is so proud of all your hard work and commitment to this team, Allie, and we hope you come back and visit often, even if it's only to enjoy Lasan's delicious goodies. We love our track team!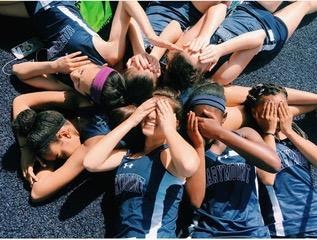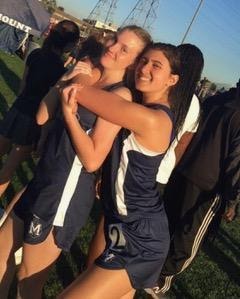 These three athletes – Mary, Devin, and Allie – represent the ideal of a sailor sister. They always strive to do their best and they choose to devote themselves to achieving something memorable. When they are faced with a setback, they recognize their emotions, but face challenges with strength and poise. They express gratitude for their opportunities and they focus on all their positive memories. I will miss each of them beyond words, and I look forward to cheering them on as they move on to their college experience. Go sailors!