Summer Inspired Treats!
Hang on for a minute...we're trying to find some more stories you might like.
Summer is coming soon and that can only mean one thing: it's time for delicious treats perfect for helping you cool off on a hot day in the sun! Here are some fun and easy recipes for treats that'll make your summer more memorable and yummy!
Fruity Ice Cubes
Description: This fun and easy summer treat brings excitement to every drink! Through a few simple steps, you can spice up any liquid with these fruity ice cubes.
Supplies + Ingredients:
Ice cube holders

Fruit juices of any kind
Steps:
First, fill your ice cube holder with fruit juice (in this case, orange juice and cranberry juice).
Second, place your ice cubes in the freezer overnight, allowing them to harden.

Once your ice cubes have frozen fully, remove them from the freezer.
One by one, take each ice cube out of the tray and place it in your desired drink (in this case, sparkling water with a slash of orange and cranberry juice).
Watermelon Jello Slices
Description: This next snack is a new twist on a classic summer treat. By removing the watermelon and adding jello, you can create something totally unique while having uncomparable fun making it!
Supplies + Ingredients:
A half of a watermelon.

Two boxes of red jello, in this case, cherry.

Bowls, a spoon, a knife, measuring cups, etc.  
Steps:
First, cut out all of the fruit out of the inside.
Secondly, spoon out all of this watermelon into a separate bowl to enjoy later.
Once the watermelon has been cleaned out, pour two boxes of jello mix into a large bowl.

Each box of jello needs 2 cups of water: one cup of hot water and one cup of cold water. Since 2 boxes of jello are needed for this recipe, double the amount of water.
Stir the jello completely so that no powder remains at the bottom of the bowl.

Pour the jello mix into the cleared out watermelon.

Place the watermelon in a bowl so that it can remain level.

Put this bowl into the refrigerator for approximately 4 hours.

Once the jello has set, remove the watermelon from the refrigerator.
Cut the watermelon into slices.
Enjoy!!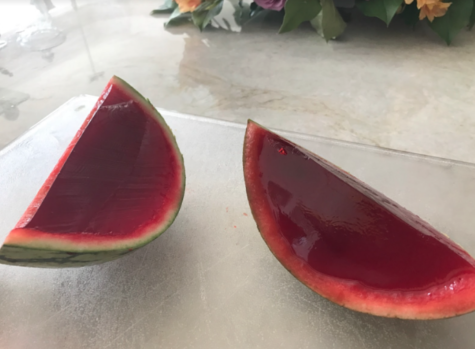 No-Bake Birthday Cake Cheesecake (for those sweet tooths :))
Description: Craving something cold and super sweet for dessert after a day in the sun? Well, this no-bake birthday cake cheesecake is a very simple dessert recipe that is stored in the fridge to firm up and ready to take out any time of the day when your cravings kick in!
Supplies + Ingredients:
1 ½ cup heavy cream

12 oz. soft cream cheese

½ cup sugar

1 cup birthday cake mix (in this case, Funfetti)

1 graham cracker pie crust (I used store-bought crust, but you can make it yourself as well!) with tin included

Rainbow sprinkles for topping
Steps:
In a large bowl, whip heavy cream with the blender until soft peaks form.
Stir in the cream cheese and sugar until the mix is creamy without clumps.

Fold in the birthday cake mix.
Pour the entire mix into graham cracker pie crust

Cover with sprinkles
Cover pie with plastic wrap, and let it firm up in the fridge for at least 6 hours (I waited overnight).

Slice and serve!
Fruit Skewers
Description: This 10-minute snack is a perfect dessert to fight off the hot summer daze!
Supplies  + Ingredients:
Fruits of your choice (we chose pineapple and kiwi)

Skewers

Chocolate chips
Steps:
Melt the chocolate chips for around 5 minutes until it reaches a smooth consistency. Once it is fully melted, simmer the heat, but do not turn it off!

Slice your fruit into bite-sized pieces to put on the skewers.
Place the fruit into the skewer (we personally liked mixing and matching the fruit as we thought it looked prettier!).

Place the skewers on a plate and drizzle chocolate on top of it. Don't forget to drizzle on both sides!

Leave the skewers in the refrigerator for around 30 minutes.

Enjoy!