L.A. Restaurant Reviews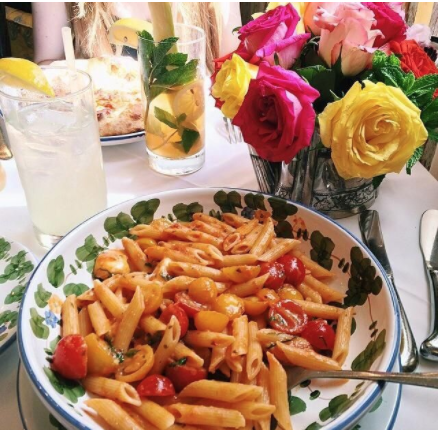 Hang on for a minute...we're trying to find some more stories you might like.
Jon and Vinny's (Recommended by Avery Smith '19).
Located in urban streets of Fairfax Ave, Jon and Vinny's is a trendy Italian spot specializing in various pizzas, pastas, and desserts. We got their infamous LA Woman pizza, a BLT sandwich, and a Los Angeles all-time brunch favorite, avocado toast.
Food: 4.5/5 –We gave it a 4.5 out of 5 because the BLT sandwich was hard to eat. Due to its relatively big size, it was not possible to use our utensils; we had to directly use our hands and the runny yolk made a mess! However, we all enjoyed the taste of the dishes and would definitely come back. Specifically, their famous Gjusta ciabatta was amazing!
Service: 3/5 –We gave it a 3 out of 5 because the servers were not very nice. The servers would just simply walk around doing nothing rather than checking if the food was ready to be served. They had a sassy attitude if we asked for anything extra or if we asked for extra water. In addition, we did not like how 20% gratuity was already added to the total cost at the end of the meal.
Price: 4/5 –We gave it a 4 out of 5 because the meals were not expensive nor cheap. The BLT cost $14.75 which is relatively expensive for a sandwich. The avocado toast was $8.50, which is an average price for an avocado toast in Los Angeles. The pizza was on the more expensive side with the price of $19.25. However, it was a relatively decent-priced meal.
Experience: 4/5 — We gave it a 4 out of 5 because we enjoyed the trendy vibe of the restaurant. The placemats were coloring mats that had illustrations of various pizzas and pastas and we were provided with crayons. However, the servers were somewhat rude to the customers but we would definitely come back for the food!
Chae: My favorite dish from the restaurant was the BLT. It was quite different from other BLTs because it had a crispy fried egg inside and complemented perfectly with the toasted ciabatta. When I took the first bite, the yolk was runny and the salty, crispy piece of bacon gave texture to the dish. It was absolutely mouthwatering and easily the best BLT that I've ever had.
Ava: My favorite dish was the BLT as well. Each one of the ingredients went perfectly together despite the fact that I had not seen some of them on a BLT before. With this being said, the uniqueness of the sandwich, as well as the flavor in itself, made it my favorite aspect of the meal at Jon and Vinny's. I hope to return to this restaurant so that I can experience this delicious sandwich once again.   
Tessa: I loved the avocado toast! They gave a great portion of avocado on top of the thick, airy and crunchy bread, and it was sliced into 5 little pieces! I especially enjoyed the fresh lemon juice on top, as well as the salt and chili flakes to give it a kick. Overall, it was very clean to eat with my hands. Not to mention, it is listed as the 4th "Instagram-Worthy Avocado Toasts to Try Right Now in Los Angeles" according to Eater.com!
BLT Sandwich
GRILLED GJUSTA CIABATTA, BACON, FRIED EGG, TOMATO, ARUGULA, AIOLI
Avocado Toast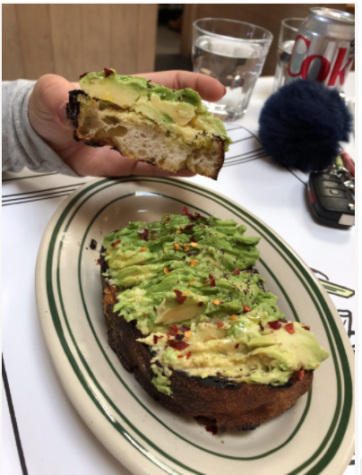 TOASTED GJUSTA CIABATTA, AVOCADO, SEA SALT, LEMON, CHILI FLAKES, OLIVE OIL
LA Woman Pizza
BURRATA, TOMATO, BASIL, OLIVE OIL, SEA SALT
Gjelina (Recommended by Ava Prunier-Herman '19)
Located on the trendy street in Venice Beach, Abbot Kinney Boulevard, Gjelina is a rustic-chic hotspot for tourists and locals that serves modern American cuisine. They are famous for basically all of their meals, including charcuterie, veggies, pizza, salads, meats and desserts!
Food: 5/5 –We gave it a 5 out of 5 because the food is incredible. They are famous for basically everything on their menu! Everything they serve tastes amazing and are cooked with the freshest ingredients.  There would be nothing we would change!
Service: 5/5 –We gave it a 5 out of 5 because the servers are extremely kind and check up on the table all the time! They are very helpful when it comes to asking questions about the menu or an ingredient. Also, the food comes out quick, regarding the fact that it is always super crowded!  Overall, the waiters here are super nice and the food gets to your table quick!
Price: 3.5/5 –We gave it a 3.5 out of 5 because it is pretty pricey. Their pizzas and salads are about $15 to $18, however, their charcuterie plates and main plates range from $20 to $75! If you are planning on just getting a pizza and salad, then the prices are fair, being that you are in the "happening" part of Venice, only a couple blocks away from the beach!
Experience: 4/5 –We gave it a 4 out of 5 only because, at dinnertime, the restaurant is super dark and loud. Lots of young adults come at night because there is a bar area, that's why it gets very loud.
Tessa: My all-time favorite dish here is the Tuscan Kale Salad. Even if you are not a fan of kale, or even salad, I promise this is the best tasting salad. The kale is very thinly sliced, and the lemony dressing masks the bitterness of the kale. Overall, the tiny bites of croutons add the perfect crunch, and it all comes together so well!
Chae: My favorite dish was the Gruyere Pizza. Although I am not a major fan of pizzas, the soft caramelized onions and the melted gruyere cheese was easily the best combination for a gourmet pizza. The crunchy and toasted dough and the fresh arugula also adds another element to the dish. In addition, the pizza came with a side of cheese and chili flakes and it added the extra spice!
Ava: My favorite dish was the Pomodoro Crudo pizza. I consider this my favorite mainly because any burrata pizza is always the best in my opinion; however, this one, in particular, stole the show. The warm, melted cheese paired with the sweet cherry tomatoes, made for one excellent pizza, while the hints of garlic and basil tied the whole thing together. The final bite of the crust left me wanting more!
Tuscan Kale Salad
TUSCAN KALE, SHAVED FENNEL, RICOTTA SALATA, BREADCRUMB
Pomodoro Crudo
CHERRY TOMATOES, BURRATA, GARLIC, BASIL
Gruyere Pizza
GRUYERE, CARAMELIZED ONION, FROMAGE BLANC, ARUGULA
The Ivy (Recommended by Mia Royer '19)
Located on the fashionable street of Robertson between Beverly Hills and West Hollywood, The Ivy is famous for its stylish, flowery decor and celebrity sightings. Their upscale Californian dishes are served outdoors next to the flowery trees, or indoors in comfortable rooms with fireplaces and antique pieces on the walls.
Food: 5/5 –We gave it a 5 out of 5 because all of their dishes taste delicious! Their pizza and pasta are handmade and you can tell within the first bite. They also serve meat and seafood, which is super fresh and cooked perfectly the way you want it: grilled or fried. All in all, whether you order breakfast, lunch or dinner, you will receive a flavorful dish that melts in the mouth!
Service: 5/5 –We gave it a 5 out of 5 because, although they are constantly busy, the waiters always come to each table. They are super nice and let you make any adjustments to a dish. They want your meal to be what you want and are willing to take it back and remake it if it is not. Most importantly, the food comes very quickly after ordering. Overall, the restaurant's service is exceptional.
Price: 2/5 –We gave it a 2 out of 5 because their prices are very high. Their prices reflect their great location near Beverly Hills and the high quality of food; therefore, it makes sense that it is expensive. This is more of a place to go to with family for a special occasion or a birthday because of the cost, but is definitely worth trying!
Experience: 4.5/5 –We gave it a 4.5 out of 5 because it was very crowded and hard to walk around. The tables are placed very close together which made it hard to get out of the room to leave. Other than that, the decor and flowers in each room give it a cozy and homey vibe, which makes it very enjoyable whether you sit inside or outside on the patio.
Tessa: My favorite dish was the crab cakes! Although I am not a fan of seafood, these tasted so delicious and made me keep wanting more. They are super light and crunchy, and the creamy sauce they give on the side is heavenly. I added lemon on top which added a perfect tang to the lightly sweet crab. Do not miss out on these perfect crab cakes for an appetizer!
Chae: Just like Tessa, my favorite dish was also the crab cakes! I am a crazy seafood fanatic and these crunchy crab cakes are what brings me back to The Ivy every time! A dip of the tartar and the crab cakes make a perfect combination of sweet and salty! I wish there were more on the plate because three is just not enough!
Ava: My favorite dish was the french toast. Although I am not the biggest fan of breakfast foods, this fluffy, buttery toast definitely altered my point of view for the time being as I bit into this heavenly bread. This french toast was also paired with delicious fruits and bacon which combined to enhance the dish even further. The light, yet thick toast with the sweet fruit and crunchy bacon left me very pleased.
French Toast
BRIOCHE FRENCH TOAST, MAPLE SYRUP, FRUIT
Crab Cakes
LIGHT & CRISPY CRAB CAKES, TARTAR SAUCE, LEMON
Penne Pasta
LIGHT TOMATO SAUCE, CHERRY TOMATOES, BASIL
Red Velvet Cake