Spirit Week Sing Off
Hang on for a minute...we're trying to find some more stories you might like.
This year's Marymount Spirit Week was epic: classes united to represent their class colors, wear themed costumes, show sportsmanship, and perform their dances, but to kick it all off, Marymount High School hosted our very own lip sync battle. The sing off marked the first spirit week competition for spirit points and the first real chance to demonstrate class spirit. Luckily, this year's spirit week fell on the same week as Valentine's Day, providing each grade with the perfect opportunity to gather on the Cantwell steps and sing a classic love song of their choice for all to hear.
The freshmen started off by singing "Breaking Free," a

High School Musical

classic known by basically everyone in our generation. They performed impressively, especially for one of their first large-scale spirit competitions at Marymount.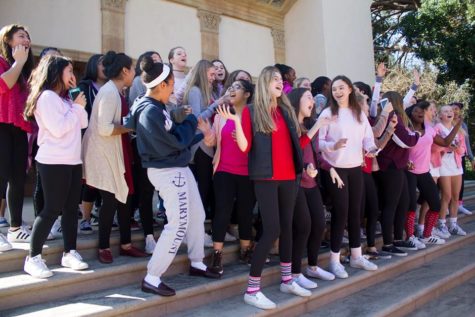 The sophomores blew us away with a spirited version of "Single Ladies" by the one and only Beyoncé. They looked perfectly in sync with their lively choreography.
The juniors performed a great rendition of "Red" by Taylor Swift, a song obviously meant to correspond with their class color, and everyone enjoyed a nice throwback to old-school Taylor. 

The seniors showed up in their class shirts and sang "Summer Nights," a song from the movie Grease that happened to coincide with their Decades Day theme, the Pink Ladies. They split into two groups to impersonate Sandy and Danny Zuko from the movie and stole the show with a combination of their knowledge of the lyrics, unified choreography and momentous class spirit.
Ultimately, this year's Spirit Week lip sync battle set the stage for the friendly competition and class spirit to come. It was a tight race for first place, and although the seniors took the win, it was obvious that everyone enjoyed both watching and participating in the fun. Hopefully similar activities will take place during next year's Marymount Spirit Week. Until next year!