How Has Harvey Affected High Schoolers in Houston?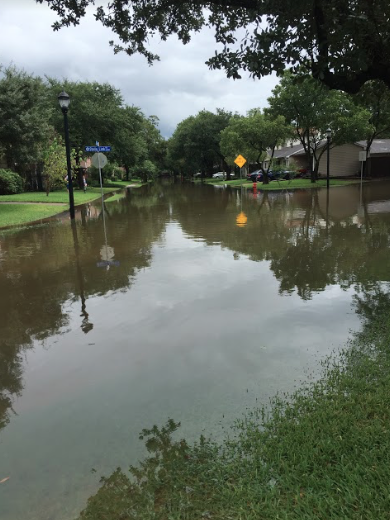 Hang on for a minute...we're trying to find some more stories you might like.
This past summer, I went on an exchange program in Spain, where I lived with a Spanish family and one other roommate from America for two weeks. My roommate's name was Corinne, a senior in high school (just like me!!) from Houston, Texas. Over the two weeks we spent in Spain, Corinne and I became very close, commonly comparing and contrasting what life is like as high schoolers in Los Angeles and Houston.
In mid-August, a tropical storm on the African coast caused the Category 4 hurricane with winds at 130 miles per hour, commonly known as Harvey. Over the course of a week, Hurricane Harvey passed through Southern states, dramatically impacting Texas, as well as Louisiana, Arkansas, Tennessee, and Kentucky.
Houston was one of the cities that received the most damage from the hurricane, which happens to be the home of Corinne and her friends I had constantly heard stories about over our two weeks abroad. Corinne and her family were not drastically affected, but many of her friends and classmates were. Her school was postponed for 2 weeks due to the hurricane. I recently interviewed Corinne about how Harvey has affected her life as a high-schooler in Houston via Facetime. Here is what she had to say.
Sarah: Were you affected in Harvey at all? What was it like to experience a Hurricane?
Corinne: "My family's lake house was damaged…but only a little bit. It was a pretty long storm that would take breaks. The storm washed away our land [at the lake house]…"
Corinne then told me about the time she and her best friend explored their neighborhood during the hurricane; she explained:
"…it was hard to get around because our house was like an island and it was all sewage water everywhere flooding. There were just a couple wandering people… The normal, super busy intersection was dead and flooded with water. The neighborhood a mile up from my house was devastated…all the houses were flooded."
S: If you weren't affected directly, were any of your friends? Who was affected the most in Harvey?
C: "A lot of my friends who live in pretty nice neighborhoods were dramatically affected by the hurricane."
S: What demographic was most affected by the hurricane?
C: "It wasn't just the poor neighborhoods that were dramatically affected, it was the nice neighborhoods too. It's weird because those places are nice and there was no class system of whose houses were flooded. Million dollar houses were under water and flooded."
S: How has the damage from Harvey affected you as a high school student? What changed the most about your everyday life?
C: "School started 2 weeks late, making school really hard because there was a lot of make-up work to do."
S: Who experienced worst damage out of anyone you know?
C: "One of my friends lives in a nice one-story house, and the water line was like an entire person's height. They lost everything. Everything they owned was underwater, except for stuff on [the] top shelf – had to be like 6 or 7 feet. It's all like sewer water, it's not river water. They're repairing the house right now and moved the house up; the house is ten feet taller.
S: Are you still dealing with the aftermath of the hurricane?
C: "I'm not. My friends, one of my close friends, only got a couple feet of water in [their house but they're] working on renovations and [it] won't be done before Christmas. There is also still a lot of debris on the streets. Immediately after the hurricane, the neighborhoods that flooded had piles of debris on sidewalks."
Then Corinne flipped the FaceTime camera and showed the view from her car, and I mentioned that it looked like it was going to rain. Corinne commented: "It was weird because a week ago it rained and there was flash flooding because the reservoirs were still full of water. The city still hasn't drained."
Thankfully, Corinne, her friends, and her family are safe in Houston and are currently helping to restore their hometown. I am still in touch with Corinne and hope to hear more updates.