What You Need To Know About DACA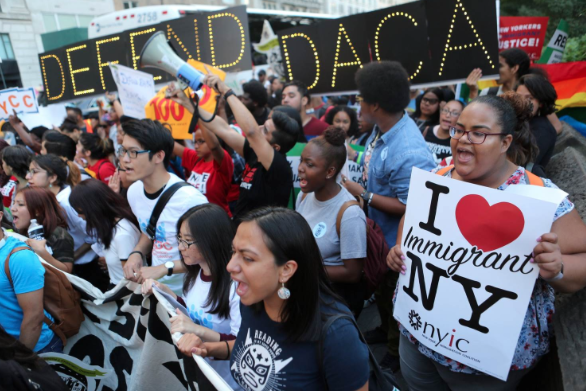 Hang on for a minute...we're trying to find some more stories you might like.
Joan Baez, a Hispanic-American activist and musician, once said, "Action is the antidote to despair."  The US currently has a population of 323.1 million; of that amount, 43.3 million people are illegal immigrants, 15.8 million children were born with one immigrant parent, and 2.1 million children were born outside the US. About 9 years ago, over two million defenseless children had no protection against deportation back to a country they either fought so hard to leave or have no ties to (because they left at such a young age); however, the Obama Administration changed that with the implementation of the Deferred Action for Childhood Arrivals (DACA). DACA protects undocumented immigrants brought to the United States as children from deportation for up to two years and allows them to work legally within this country.   
The DACA program currently supports about 800,000 people, all of whom the government has deemed eligible for this program.  That means that these people have come to the US under the age of 16, are under 31 years old at this very moment, have not been convicted of a misdemeanor or felony, are in school or have a GED, and do not pose a national threat.  Over a million people qualify for this program, despite the government's specific requirements; however, the applicants still get filtered down because a portion of that million cannot afford the $465 form submission fee. Selected and grateful participants do not waste the opportunity given to them; almost all DACA participants work and about 72% of the  participants are enrolled in higher education.  The DACA program has allowed these hard-working people to acquire an education that they initially would have never gotten, experience an increase in their wages by 45%, and, most importantly, stay with their loving families.  
The dismantling of DACA by the Trump administration will not only significantly affect the lives of the participants, but will also severely affect the nation's economy. The Trump Administration claims that the program costs more money than it's worth; however, deporting 800,000 people would not only cost $60 million to perform the act alone, but America could lose up to $280 billion in tax revenue.  The state of California, which has 187,972 employed DACA workers, would suffer a loss of $11.3 billion a year in gross domestic product. Texas, North Carolina, Illinois, New York, and Arizona each would lose over $1 billion in gross domestic product.  
The dismantling of DACA leaves will cause 800,000 jobs to be lost, 800,000 families grieving for their loved ones, 800,000 people ripped away from all they have ever known, and 800,000 lives completely turned upside down.  These people have never committed any crimes, nor have they done anything wrong, the program won't allow it. And yet, this program will expire on March 5, 2017, unless Congress decides to act and stop this grave mistake. In the wise words of Cesar Chavez: "Once social change begins it cannot be reversed.  You cannot un-educate the person that has learned to read.  You cannot humiliate the person who feels pride.  You cannot oppress the people who are not afraid anymore."  
With the dismantling of DACA for the reasons our current presidential administration gives, an important question arises: does economic responsibility outweigh moral responsibility?