Nike Takes a Knee
Skyler Brown '19, Staff Writer
October 15, 2018
On September 3rd, 2018 Colin Kaepernick unveiled his partnership with Nike through an advertisement featuring his face and the phrase, "Believe in something. Even if it means sacrificing everything." The former quarterback for the San Fransico 49ers, Kaepernick is famous – or infamous – for taking a knee during the National Anthem at NFL games in protest of racial injustice. Nike's partnership with Kaepernick for the 30th anniversary "Just Do It" campaign sparked both outrage and support.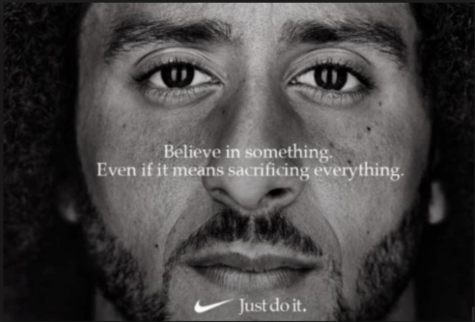 In order to understand the controversy over Nike's partnership with Colin Kaepernick, I believe it is important to first establish the controversy over his protests. In 2016 Kaepernick decided to kneel during the national anthem in protest of social injustice, specifically the unjust treatment of African American citizens by white policemen. While many showed their support of his mission, Kaepernick received backlash from adversaries who claimed his actions were anti-military or attention seeking. Even the then-presidential candidate Donald Trump weighed in, declaring, "Maybe he should find a country that works better for him."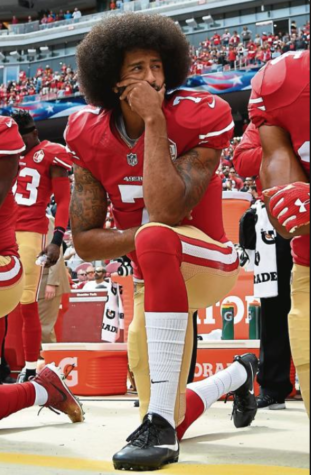 But is it not within the fabric of America for citizens to speak their minds? To advocate for the change they want to see in their country? To state that Americans who find fault in America should simply move on is to suggest Dr. Martin Luther King Jr. or Susan B. Anthony should have abandoned the country without attempting change. It even suggests that Donald Trump should never attempt to "make America great again." Colin Kaepernick's peaceful actions inherently align with America's protection of freedom of speech. Furthermore, they effectively brought attention to the injustices transpiring within the country, sparking discussion, support, and change.
A quick search online would reveal dozens of photos and videos of people burning or mutilating their Nike apparel in reaction to its association with Kaepernick. The pyromaniacs took to social media to demonstrate their displeasure with Nike promoting someone who supposedly disrespected the American flag, anthem, and country itself, calling for a boycott of Nike altogether.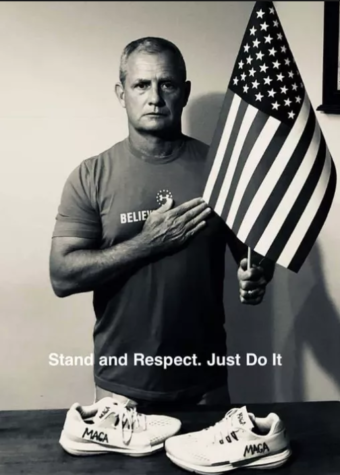 I believe Nike could not have chosen a better representative for their "dream crazy" campaign. Along with Kaepernick, Nike partnered with Serena Williams, LeBron James, Odell Beckham Jr., Lacey Baker, and Shaquem Griffin, all people who test the boundaries of ability, gender, religion, and race within sports and society. Does Kaepernick not stand for this as well? He, to quote the ad, risked everything to stand for what he believed in. He took note of injustice occurring within his country and used his platform to peacefully bring attention to the issue. So what is Nike promoting to its viewers? To stand for what you believe in, to stay true to yourself, to not back down, to incite change.
Beyond my opinion, the success of Nike's new campaign is demonstrated by the stock market. While Nike stock initially dropped, it quickly rose to an all-time high of $85.55 per share. The increasing success of Nike reveals Americans, and customers abroad, support Colin Kaepernick. Clearly, the ideals and actions promoted by Kaepernick resonate in today's world where individuals recognize changes they wish to see, whether it's increased gun control or sexual assault awareness, and choose to take a stand – or maybe a knee.
Sources
https://www.cnbc.com/2018/09/14/nikes-kaepernick-ad-should-fuel-sales-as-retailer-knows-its-consumer.html
https://www.cnbc.com/2018/09/06/meet-the-stars-of-nikes-new-just-do-it-campaign.html
https://www.cbssports.com/nfl/news/nike-unveils-colin-kaepernick-led-just-do-it-campaign-for-its-30th-anniversary/
https://www.nytimes.com/2017/09/07/sports/colin-kaepernick-nfl-protests.html
https://www.newyorker.com/news/daily-comment/behind-nikes-decision-to-stand-by-colin-kaepernick