Behind the Buses
Hang on for a minute...we're trying to find some more stories you might like.
You see your bus drivers at the beginning and end of your school day every day for up to 4 years. You would think you'd pick up on some things – their favorite candy, if they have a family, what their pet peeves are – through their driving and management of your bus. But, aside from what we see at the crack of dawn, when we're so tired, or at the end of the day, when we're too excited or too sleepy to really notice what's going on around us, do we truly know our bus drivers?
Bus drivers go through a lot more than we know before they pick us up, after they drop us off, and everything occurring in between. If you think you know your bus driver, how early do you think they wake up? A pretty simple question right? Maybe five or six am since every pickup starts around 6:30. Well, if you guessed that, you would be wrong. Most bus drivers I interviewed have to wake up between three thirty to four in the morning. So, do you think you really know your bus drivers? Let's see in the first installment of this feature!
THE VALLEY
Bus Driver: Walter
Bus Number: 29
Time Driving for Marymount: 1 year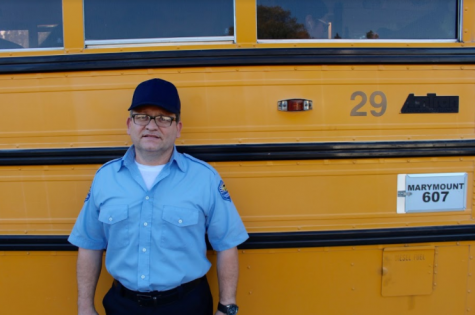 Walter's day starts around 4am in order to get ready in time for his 5:30 shift. Walter is one to always remind the girls of the safety rules and that they apply them every day. "There are certain precautions we need to take as bus drivers, because we are responsible for the girls' safety and wellbeing. Although they think some of us might be a stickler for rules, we really do care about them." The valley bus has always been smaller compared to the rest of the buses; when I asked Walter how the size of the bus factors into things, he said, "Well, because of the size of the bus, I find that the girls are able to listen better and I can supervise them closer. There is also a smaller number of students, so there's less noise." Walter has only been driving for Marymount for a year, but it seems like he's already found his home here. When asked about the transition from driving other schools to here, he notes, "There's a lot more organization, I'll tell you that!"
HANCOCK PARK
Bus Driver: Warren
Bus Number: 413
Time Driving for Marymount: 8 years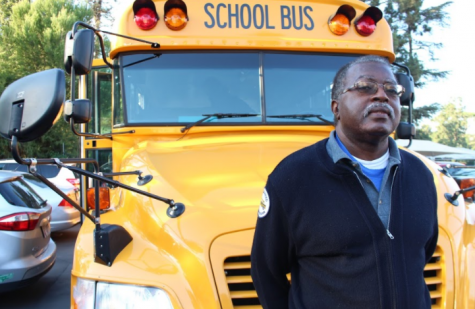 Notoriously known as the "fun bus," Warren believes he isn't strict and simply wants the girls he drives to be happy; as long as you do everything he says, he cuts the students slack. When asked if he knew about the bus's reputation, he said "Yes, I have and that's a good thing to me; it lets me know that my kids are glad to be on my bus!" Full time, he only drives for Marymount, but throughout the day, he drives about 10-15 schools for little trips here and there. When asked why he keeps coming back to drive for Marymount after all these years, he responds, "The girls are always a nice bunch, and I recognize the power of the bus. You know, 3 years or so ago, there were these 2 girls who lived 3 houses away from each other and didn't even know until they got off this bus one day. Now, they're best of friends." Even though Warren is a pretty easy going person, towards the end of our interview, he tells me he's surprised that I didn't ask the one question he wanted me to ask: what his pet peeves are. "Bullying," he notes. "I know every single person on this bus and I noticed that when girls first start coming on here, it takes about a week or two for them to open up. And they always copy each other. One girl says 'Thank you, Warren!' and the rest follow," he laughs heartily. "But you know, most of the time, I can't recognize their voices until senior year because they're so far in the back! I prefer that every girl sit wherever they want, but if you girls don't want to do something a certain way, I won't force it."