College Decision Advice from Teachers
Hang on for a minute...we're trying to find some more stories you might like.
It's that time of year again when Marymount seniors anxiously await to hear decisions from the colleges they have applied to. I'd like to congratulate all the students who have been accepted into their dream schools! We are so proud of you! However, this article is not for you; this is for the girls who have not gotten into schools, whether that be that one school they were sure they would get into or their top choice. It may feel like the end of the world right now, but there are so many people who have endured this same obstacle and have lived through it. If you are even slightly anxious about college decisions or if you feel like the entire world is crashing down around you, here's some advice and experiences from some Marymount teachers who believe in you!
Ms O'Connell: Transferring and Shifting Perspective
Ms. O'Connell's experience applying to college was much different than that of many Marymount girls. She attended community college for a year and wanted to transfer to a four-year institution, but her parents were not supportive of the idea. She says, "I had to hide it from them and get a post office box in order to apply without them knowing." During that year when she was in community college, Ms. O'Connell was "miserable" because all of her high school friends had already gone off to four-year institutions. However, she began to have a change of perspective, she says, when a philosophy professor "told me to knock it off and how lucky I was to be able to study. That woke me up and made me appreciate that year of community college." This is a sentiment she hopes Marymount students will keep in mind as they are dealing with college decisions."Sometimes perspective really works even though it is extremely hard to not have that first choice [school] that we've been thinking about for a long time."
Ms. O'Connell also realizes that current students face another obstacle of social media, which often distorts perspectives of the college experience: "Everyone looks happy on Facebook, but we know that a lot of people are having a tough time and no one is going to show that on Facebook." She says that although college decisions are critical, "it is not the most major decision someone will ever face in their life." In her encounters with Marymount seniors as a college counselor, she says, "I try to get everyone to see- if I could hand them a crystal ball- that they will be so happy and successful in their future.  They just need to sometimes fast forward through the spot where things didn't work out exactly the way they wanted them to." In the end, Ms. O'Connell wants seniors to know that " there's not one perfect college for everybody. College is more about what you do when you get there rather than which college it is."
Mr. Baker: Test Score Troubles and Making the Best of Your Situation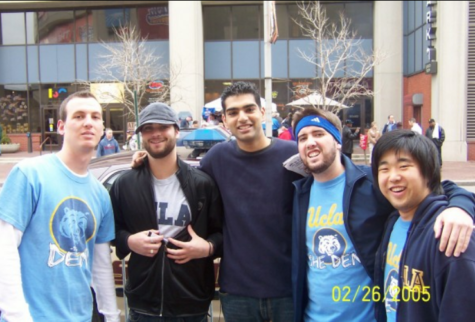 Mr. Baker grew up in Ventura, California, which he describes as a place where there wasn't much focus on going to college. "Nobody in my family had ever gone to college- my mom, dad, nobody. My friends, my peers, were not from an area where a lot of people went to college." But early on in high school, he set his sights on attending a four-year university. Throughout high school, Baker says, "I had done everything right: I'd done community service, I'd done ASB, I was the president of my class all four years, extracurriculars, basketball, everything I was supposed to do. I had a good GPA, not great but good and I thought I was totally on that path for college."
However, after taking the SATs, he felt a "complete letdown. I received a pretty low score so I thought my life was over. At the time, I thought it had ruined my life." He decided to go to a community college for two years, and eventually transferred to UCLA, which he describes as a very positive experience. He reflected, "I saved money, I got to mature a little more. I think if I had gone my freshman year, I don't know what fraternities I would have joined and what that would have been socially. I had a job while I went to school so that when I went to UCLA, I was more mature and ready."
To Marymount seniors who are anxious about their responses from colleges, Mr. Baker advises you to "realize college doesn't define you at all. Whatever college you end up at, it's up to you to make that experience your own and to enjoy yourself and realize that you are getting a top notch education no matter where you go. I think that my story proves that for sure. . .You can be disappointed with the decision, but you need to know that when you get to college, your life is going to completely change most likely for the better. It's your attitude that will basically determine how your experience will be."  
Mrs. Brady: Dream Schools and Being Happy
For many Marymount seniors, there is no teacher more relatable in the college search than Mrs. Brady, who attended Marymount herself! During her senior year, she set her sights on Yale as her dream school, but had a bad experience interviewing there. "I interviewed at a whole bunch of colleges on the east coast in a row, so I had been to Princeton the day before. So when I got to Yale, the very first thing I said to the person interviewing me was 'I really like Princeton.' So I started off on a bad note." Mrs. Brady applied early to Yale, but was "flat out denied." She was crushed: "I was really upset about it because I had built it up as the ideal college for me in my mind. I think the fact that I messed up in my interview made me want it more. So when I didn't get in, it definitely threw me and I had a hard time refocusing and figuring out where I wanted to go after that."
To Marymount students who have been through a similar ordeal, she advises you to "feel the disappointment and acknowledge it– it is a totally legitimate and honest feeling that you have. But remember that there is another school that is going to be great. . . sometimes what looks like the best choice at the beginning isn't actually the best choice." In retrospect, Mrs. Brady does not think she would have been as happy at Yale as she thought in high school. She ended up attending Notre Dame University, which she describes as "totally the opposite of what I had pictured at Yale. At the time when I applied, I thought of it as a football school, but I came to realize that it offered so much more in community, which was what I needed." She is so happy she went to Notre Dame because without it, her life "would have gone a completely different direction."
Mrs. Brady wants to remind seniors that they should, "Look for the school that you think you as a person are going to be happiest in." She advises them to be careful about picking a school just because of its ranking. "I think people who base their decisions on prestige can often end up very unhappy because it looks cool on a piece of paper but when you have to live your life there every day, it's not always what is going to make you happiest."
As you can see, experiencing challenges in the college process is more common that we often think it is. Take the advice of your teachers and step back to get perspective on your situation, take a positive attitude to make the most of whatever your experience is, and finally, prioritize your happiness.