Rising with the High C's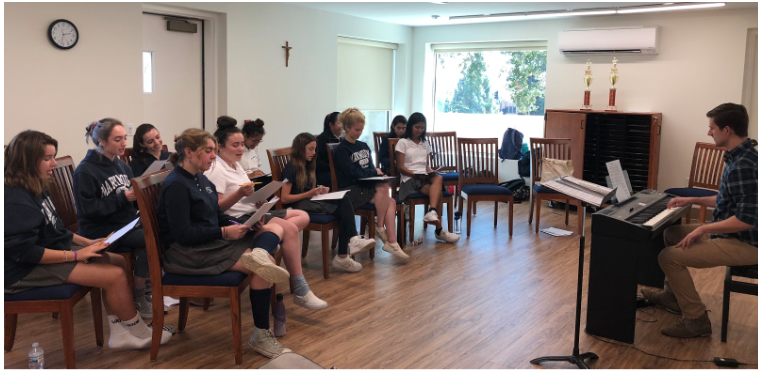 Eiara Fajardo '19, Staff Writer
October 15, 2018
Marymount's acapella group, the High C's, have big plans for the 2018-2019 school year. Mr. Conley, the choir director, has been working hard with the girls in the choir and in High C's for three years now. As a member of the High C's for the past three years, I was curious about Mr. Conley's thoughts on the group and his vision for the High C's.
This year he "want[s] the High C's to focus on expressing music to the highest degree, meaning that their goal is not just to sing beautifully, but also to sing the message behind the music honestly and effectively. [He] want[s] to develop a sound that's healthy and natural for the singers, a sound that's a mix of the traditional choral, pop acapella, and folk singing." Asking what his main goal is for the High C's, he responds that he wants "to get the highest rating possible at their annual choir festival and that every performance they have is at their best possible level." Choirs that participate in this festival get either a gold, silver, or bronze rating. The Marymount choir and High C's have only been bringing gold ratings home! Their main focus is "to spread the message that women's voices matter and deserve to be heard, that music is vital to our world, and that by singing together we can learn to trust ourselves and each other, growing in friendship and in skill together, rising together."
Although official auditions have passed, the music group is still open to anyone who wants to audition! The High C's meet every Period 9 under the DRC from 2:10 to 3:15. Please join us in room L3 every Tuesday and Thursday!