BTS on SNL: Their Cultural Impact Through Their Music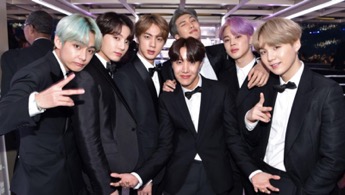 Jennifer Kim '21 and Indigo Mapa '21, Staff Writers
May 20, 2019
Hang on for a minute...we're trying to find some more stories you might like.
You may have heard of "BTS" through the endless multitude of articles, trending tweets, news, radio stations, and many more platforms that acclaim this group who seem to have taken over the world. So, who exactly is this group, and exactly what have they accomplished? BTS is a Korean-pop group consisting of seven male members, performing for almost six years, and working hard to continue building their empire. From their eye-catching choreography to their record-breaking albums, they have caught the attention of ARMYs, or, their fanbase, all over the world, and many who have witnessed the complete breakthrough of America that this group has accomplished. BTS continuously bring popularity to the "Hallyu," or "Korean Wave," which refers to the global popularity of South Korea's culture, bringing in billions of dollars to South Korea's economy every year, and has brought a previously unfamiliar genre and concept, K-pop, to a golden age in the US without changing to cater to the Western audiences.
BTS has made history countless times throughout their career. They've broken countless records, some of which include breaking the Guinness World Record for the most viewed video in 24 hours or the highest pre-sale of a Korean album, being over 1 million sold. They've been the first K-pop band to grace the cover of "TIME" magazine, listed as the Next Generation's Leaders. Recently, they've attended the Billboard Music Awards for the third time, winning their third Top Social Artist award and their newest Top Duo/Group award. With these huge accomplishments, BTS has created an opening for other K-pop acts, with Blackpink being the first K-pop act to perform at Coachella, and EXO and GOT7 being nominated for the BBMAs after BTS. Adding onto their impressive list of achievements, in 2018, the super boy group became the first K-Pop group to attend the launch ceremony of UNICEF's Generation Unlimited at the UN General Assembly in New York. The leader, RM also known as Kim Namjoon,  delivers a speech, discussing the message behind BTS' Love Myself campaign and UNICEF's #ENDviolence movement. He then speaks about his childhood and his journey of finding himself, "These faults and mistakes are what I am, making up the brightest stars in the constellation of my life. I have come to love myself for who I was, who I am, and who I hope to become." His speech touched the hearts of those around the world, making their fans proud and South Korea even prouder. Their involvement at the UN opened the eyes of many and shed light on the band. After their success in 2018, BTS kickstarted 2019 off with their appearance on Saturday Night Live as the musical guest. The episode was hosted by Emma Stone and the ratings skyrocketed. They became the first Korean act on SNL, opening doors for Asian artists. They performed "Boy With Luv" live for the first time and made history once again. Prior to their appearance on SNL, BTS became the first Korean boy band to attend the Grammys and be nominated. Their album, Love Yourself: Tear, was nominated for best recording sound package; though they lost to St. Vincent's Masseduction, it was a huge achievement that they had dreamed of for years. The group plans to return to the Grammys, this time with an award in their hands.
Some experts view the success of BTS as a harbinger of a revolutionary cultural change paralleling the "British Invasion" of the 1960s, which British rock n roll groups, such as The Beatles, brought with their stardom. BTS, with their recent album, "Map of the Soul: Persona," have met the records set by the Beatles, topping the chart three times in one year. Most recently, BTS have sold out their stadium tours around the world, including the Wembley Stadium in England with a capacity of 90,000 in 90 minutes, and the Rose Bowl in California, which also has a capacity of 90,000, showcasing their vast international popularity. They've also collaborated with many big artists in the US, such as Halsey, Ed Sheeran, and Nicki Minaj, further skyrocketing their success.
All in all, BTS proceeds to prosper in the music industry and revolutionize the image of Korean pop music. They continue to impact many lives through their music and positive message of self-love and self-discovery and culturally impacting the world. They have become modern pioneers of music and has given future generations a voice.