Spotlight on the Arts – DTASC
Freddie von Siemens '21, Staff Writer
December 9, 2019
On October 26th, Marymount competed in the 99th annual fall DTASC festival! DTASC stands for the Drama Teachers Association of Southern California, and it was founded to give students all across Southern California the opportunity to showcase their talents in front of other students. There are two annual festivals which Marymount attends and competes in: the Open Festival in October and the Shakespeare Festival in April. Before each festival, the hundred-or-so schools who compete in the festival are given a list of categories to choose from. Each group competing chooses a relevant 5-minute scene to perform at the festival among the other schools. Depending on the category, scene length can vary; for example, the musical category is allowed longer scenes. Categories can range from comedy to drama to costume design to technology and much more. Most categories also allow the use of four chairs for staging and "set design," but other than that, no props or other extravagances are allowed in order to showcase the performers' talent in the most authentic way possible.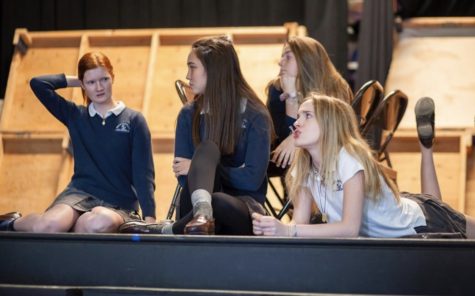 The 2019 Fall DTASC team was so excited to work alongside Corey Wexler, the new Marymont DTASC coach and acting teacher, despite missing our former coach Chris Schulte who recently retired. This year, the team decided to produce each competition piece solely based on student direction and the team's most popular ideas. This form of collaboration gave the girls a chance to capture each scene through their own interpretations and give life to each piece.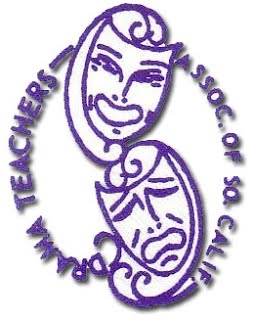 With the help of two brilliant student directors, a total of 9 Marymount girls competed in the fall festival this October. The team chose 3 separate categories from the bunch and naturally discovered each area of competition they were most passionate about. The categories chosen for this year's Fall Festival were "A Woman's Voice," "Large Group Comedy," and "Audition Monologue." After reading multiple scenes from various women empowering playwrights along with many comedic scenes, the girls chose their overall favorite pieces and began work. The group competing in "Large Group Comedy" came about their decision quite impulsively during group discussion and all 4 girls were eager to participate in the construction of a scene from the musical version of Mean Girls. They hit the ground running and started preparing their competition piece right away in hopes of earning another trophy. The alternate group competing in "A Woman's Voice" found their scene after an intense and emotional read-through of the playwright "I Dream Before I Take The Stand." This scene instantly clicked for the girls and their passion for the content only grew as the festival approached.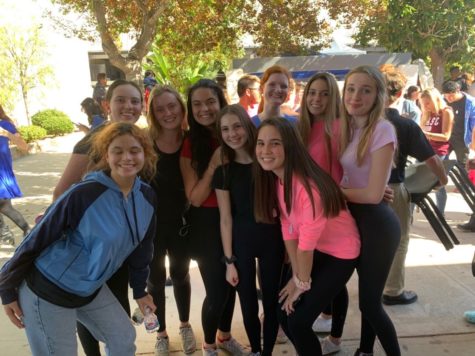 DTASC holds a special place in the hearts of all Marymount girls who participate. We look forward to it for months before each festival and have a memorable experience every time we go. While we might cross paths with the same groups across multiple festivals, which is exciting, no two DTASC festivals are ever the same. Once we choose our scenes, which are vastly different every time, we make a point to give our everything to them, partly to do well in the competition, but also to create something that we're proud of. Senior Piper Ackerman says, "DTASC really gives students the opportunity to creatively explore theater and create something meaningful to them. We're given so much freedom to choose and block scenes that in the end we're making something we can truly be proud of because it's our own. I have so many life long friends and memories thanks to DTASC, I'm truly grateful for the opportunity." 
Over the years, the members of the team have been given the chance to grow not only as friends but as family. These girls are extremely talented, enthusiastic, intelligent, and competitive, while each year they continue to advance their skills as well as their friendships with one another. In my experience, DTASC has been the center of my Marymount career and will be one of my greatest memories that I will keep throughout my lifetime. This extracurricular gives us all a break from the intense academic stress we constantly endure and gives us the freedom to create a meaningful story through physical behavior, tone, emotion, and intensity. The overall effectiveness of each scene, in their own unique ways, allows each of us to connect with a character beyond our own comfort level. Through each piece, we are given the opportunity to step into another's shoes and bring their story to life. In my experience with DTASC, I find myself drawn to embracing a personality from a character that is completely different from my own. The competition never fails to amaze me: the performance given by each team always manages to steal my attention. Both the wonderful friends I've grown extremely close with and their help in my improvement play into the never-ending love I have for DTASC. The preparation is one thing, but the competition itself always leaves us smiling and giggling on the bus ride home. The festival is always something we look forward to and I couldn't imagine life without such an amazing team of girls and coaches each year.