Devon Newberry & The Junior Olympics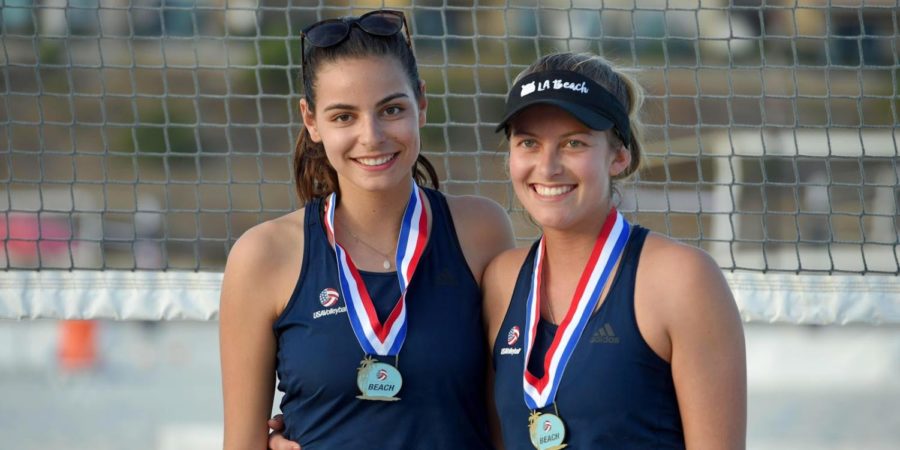 Stephanie Sowa '21, Athletics Section Editor
December 10, 2018
Devon Newberry, class of 2019, is an outstanding student-athlete. Devon has played outside hitter all four years of her Marymount Volleyball career in addition to leading the Marymount Beach Volleyball Team to numerous victories. Many people ask her if she prefers beach more than indoor, but she explains they may seem similar, but they are totally different. Devon loves indoor because of her teammates: practicing and celebrating is such as special experience and brings various individuals together. She also loves beach volleyball because it is an intense experience between yourself and your partner, with no one else to blame for any mistakes.
Thankfully, Devon's Sailor Sisters can easily cheer her on throughout her college career as she has committed to play beach volleyball at UCLA, one of the highest-level beach volleyball schools in the nation. In addition, she has many close friends playing on the team already, so she is eager to join them. Her partner of two years, Lindsey Sparks, is currently a freshman volleyball player at UCLA who is well-known for her beach abilities. Devon reveals how intimidating it was to start competing with Lindsey, but the two work together extremely well and push one another to play their best. Describing her partner, Devon shares that Lindsey is more than a best friend, "We feel so comfortable telling each other when we are in the wrong. It's like we're married and sisters at the same time."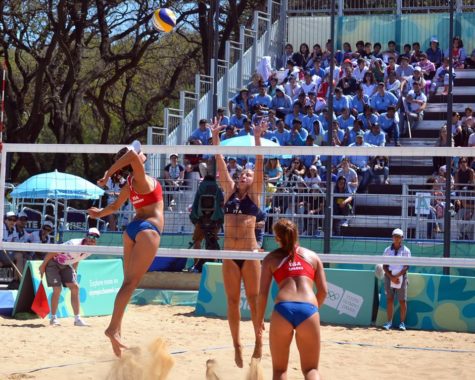 This October, Devon and Lindsey competed in the Beach Volleyball Youth Olympics in Buenos Aires, Argentina. After finishing an extremely successful summer for their partnership, Devon was nervous to compete at an entirely different level. However, once Devon and Lindsey arrived at the Olympic village, they were ready to represent their country surrounded by current (and future) Olympians. The team fell into a rhythm: wake up, eat together, go compete, and watch the other games. A memorable moment for Devon was the game against the home team, Argentina. For Devon, being surrounded by a giant crowd of over 500 people cheering for their team while she competed in an amazing battle is something unforgettable, especially for a young and promising athlete. Devon made friends from all over the world which is something she will forever hold in her heart. Leaving with an absolutely impressive fourth-place finish (!!!!), Devon decided she would never have the words to truly describe what an amazing and life-changing experience she just had. While heading home after the Youth Olympics, Devon shares her realization, "I wasn't going to be with my best friends competing and grinding every day. It was a really hard readjustment for me because all I was thinking about was if I would ever have the opportunity to do something like that again."
Fortunately for Devon, the whole Marymount community has complete faith in her and we know she will continue to shine in beach volleyball. She is inspired to head back to the beach and continue to train in order to ensure her future success. We are so proud of you Devon!