The Evolution of Marymount Sportswear
Millie Dyer '19, Opinion Section Editor
March 18, 2019
My second trip to Marymount's archives was worth the dust: my finds were pleasantly surprising. This time, I jumped to explore the history of athletics at Marymount. Shuffling through collections of yellowed yearbooks from the 1930's, I anticipated an uninteresting arrival at an irrelevant history of athletics.
Perhaps I expected – "women, beware the tennis racket, the spatula calls!"
As it turns out, even this early on, athletics at Marymount established a loud and prominent place within the community. Marymount Marionettes (how about that old mascot?) made an active effort to show their school spirit and get their blood pumping.
In its first ten years of life, young Marymount boasted an athletic association of students (in the photo, they've featured their hefty trophy, so let's assume that they were quite good at doing whatever they did).
Marymount girls enjoyed tennis, basketball, volleyball, ARCHERY (what?), and golf. Hate to break it to volleyball, but it looks as though basketball was once prized: Marymount had three basketball teams. Bravo to those girls – after all, they had to maneuver the court in shirtwaist dresses and pleated colors. Ms. Driscoll, can I put in a request to revive archery?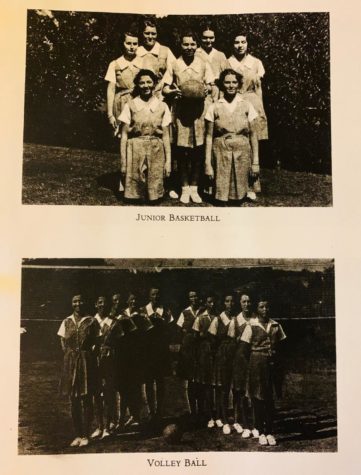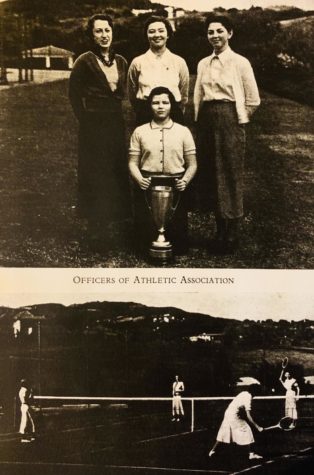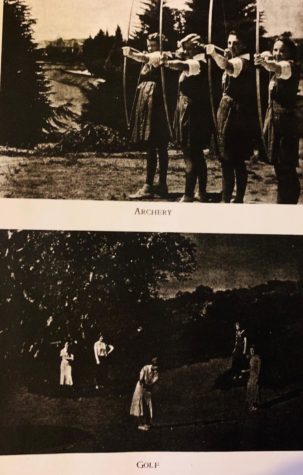 Marymount girls picked up their game, and a bat, when they introduced softball in the 1940's. I imagine that sliding was probably a difficult feat in a dress. But I'm sure that nothing stopped the original softballers from hitting it out of the Bel Air Country Club.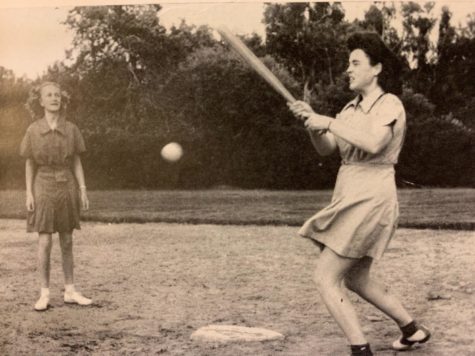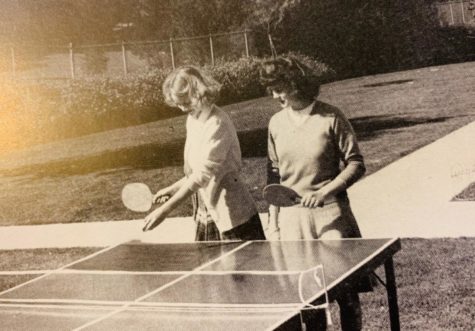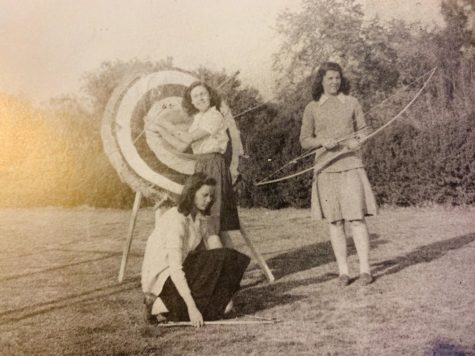 In the early 50's, Marymount girls enjoyed playing ping pong at the end of senior lawn. Another oldie that deserves a welcome revival  – what better way to spend a Period 9 than ping pong? Other than that, archery seems to have stuck around throughout the era of TV dinners and carhops. Although, decent sportswear seems to be hiding somewhere under a poodle skirt … maybe afterschool sports dueled as a chance to display the latest fashions?
The volleyball team makes a more formidable entrance with featured photos. This is the first I see of a (massive!) trophy for the team.
And who could forget the legendary 1950's basketball team? Still legendary, of course, but it certainly had some glorious moments in the past.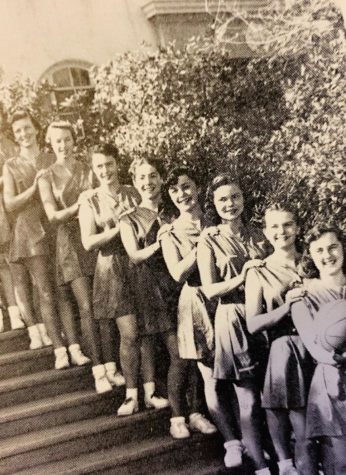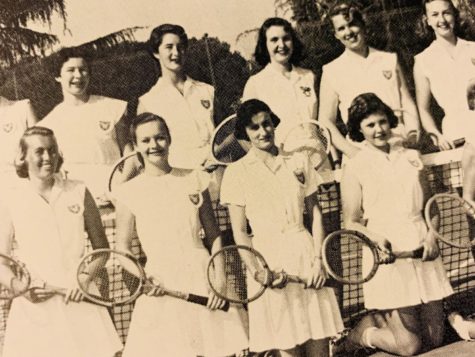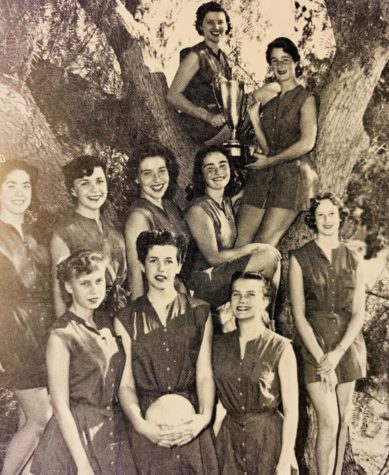 A 1960's Marymount seems to have incorporated more accessible and athletic… dresses. The basketball team sports a more modern look, dressed in a (less dressy) dress. Marymount girls first took a dip in the pool in the 1960's, and the turnout didn't disappoint. Not to mention, the softball team has expanded its reach. The swim team sports standard black and gray one pieces and the softball team has maintained the iconic dress. Tree-photos were in vogue for most sports teams.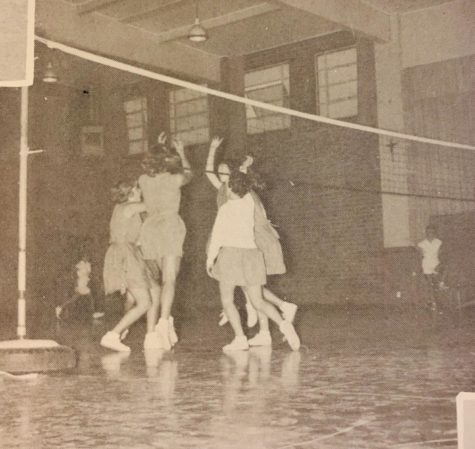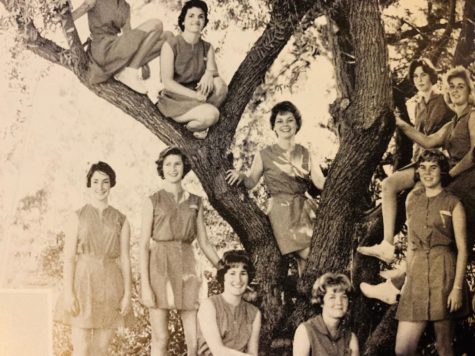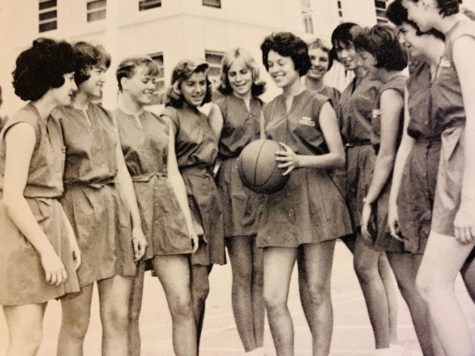 The 1970s launched cheerleading. Pompoms required, of course, paired with a long-sleeved white shirt, white socks, and a lettered jumper. Perhaps sleek locks and a signature middle part was also mandatory for this squad? We see a major shift in the volleyball uniforms for this decade. Players have opted for flower-printed shorts and a long-sleeved, turtle-necked white shirt. The 70's certainly seem to have sparked creativity in the athletic office. Tennis maintains its standard white shirt and skirt, but the renewed sportswear seems much more appropriate for hardcore athletics.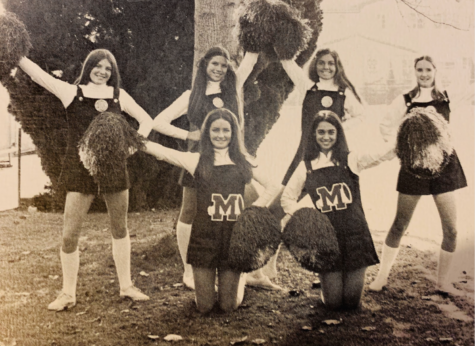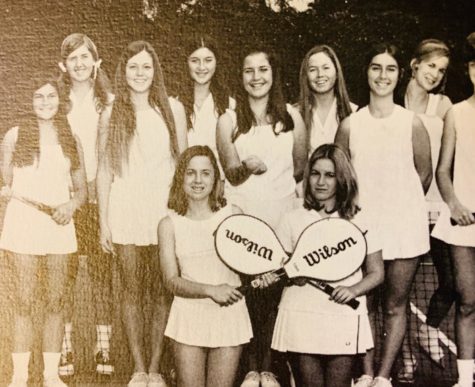 I am impressed by the 1980's swim team. Perhaps there is a need to beat the heat? The swimmers are featured in their uniforms and swimsuits. This year, there is also a gymnastics club, although there is no specific uniform required. The volleyball team has opted for either velvet or silk shorts (befitting for an afterschool disco). The tennis team has put a spin on their original attire by swapping for pleated skirts. Farewell to dresses for basketball: shirts and shorts have rightfully made an official entrance.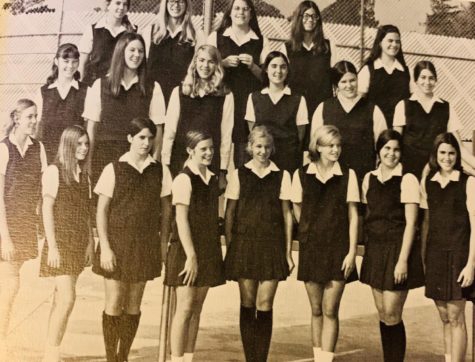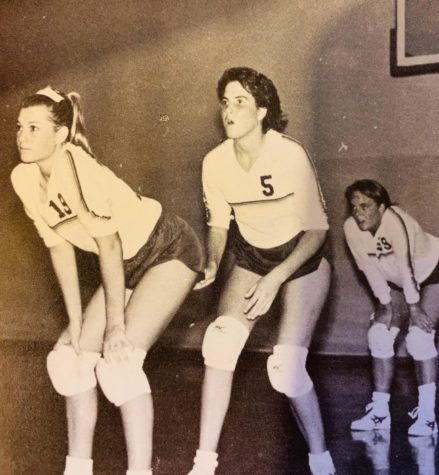 The 1990's offers some record of Track practice – somehow, Cross Country and Track had been relatively overlooked in these yearbooks. The track attire doesn't surprise me: a tank top and shorts. Cross Country has some impressive jackets that Urban Outfitters would die to get their hands on. Soccer, with black uniforms and white-collared shirts, won the championship in 1999. Tennis maintains the black pleated skirt introduced in the 80's.
(gymnastics!)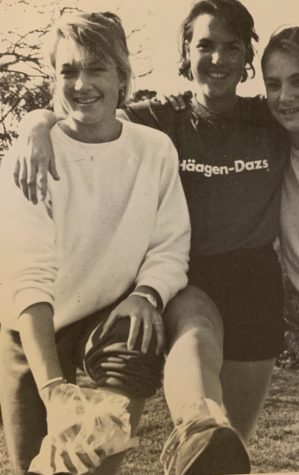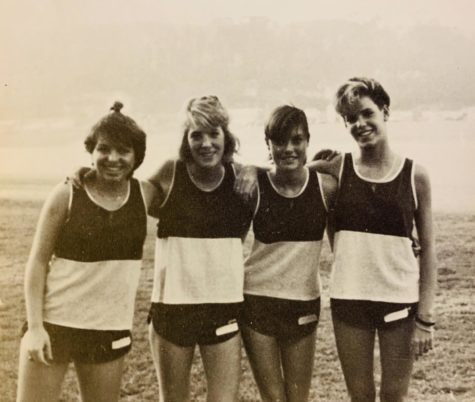 Marymount athletes' uniforms have certainly evolved, but it seems that their spirit and stamina hasn't. Our athletics continue to thrive, such as they always have.