Superbowl Sunday: Recap
The 2020 Superbowl was a nail-biter game played in Miami, Florida between the Kansas City Chiefs and the San Francisco 49ers. In an intense battle, the Kansas City Chiefs came on top with a comeback, winning the game 31-20. 
The game started with the 49ers kicking off to the Chiefs. The 49ers later scored a field goal for three points and the Chiefs scored a touchdown within the final seconds of the first quarter. The second quarter started with 49ers possession, but they immediately threw an interception into Chief's arms. Following, Patrick Mahomes, the Kansas City quarterback, threw a 28-yard pass that did not count for a touchdown, but the chiefs used their fourth down to make a field goal, making the score 10-3. However, to finish the second quarter, Jimmy Garropolo – the 49er's quarterback – threw a touchdown to even the score 10-10. 
The Superbowl Halftime Show starred Shakira and Jennifer Lopez. Shakira kicked off the show with her song, She Wolf, and then transitioned into her renowned song, Empire. Following her performance of Whenever, Wherever, Shakira was joined by Bad Bunny to perform Cardi B's popular song, I Like it, and her beloved tune, Hips Don't Lie. Jennifer Lopez joined the stage and performed a pole dance prior to her set consisting of Jenny From the Block, Jenny From the Block, Get Right, Waiting For Tonight, Booty, Mi Gente, and On the Floor. Finally, the two stars shared the stage and performed Let's Get Loud, Born in the USA, Waka Waka (This Time for Africa), and Duo alongside one another, each with astounding choreography and costume design.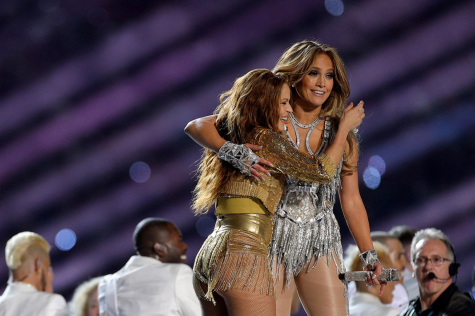 To start the third quarter, the 49ers quickly gained yards across the field, ultimately scoring a field goal to take the lead at 13-10. During Kansas possession, Patrick Mahomes threw an upsetting interception which resulted in a 49ers touchdown. At the end of the third quarter, the score was 20-10, 49ers. The fourth quarter quickly unfolded with another interception thrown by Mahomes into 49ers Moore's arms, but the Chiefs responded with strong defense to ensure that San Francisco did not secure the victory early on. Soon after the Chiefs regained the offensive, Mahomes threw a touchdown to make the score 20-17, with the 49ers maintaining the lead. Then, the 49ers failed to score a touchdown within four tries, which gave possession of the ball back to the Chiefs. Taking the offense to his advantage, Mahomes – with just over two minutes left in the game – threw a touchdown to make the score 24-20 with Kansas in the lead. With the 49ers offense crippling, their turnover immediately granted the Chiefs an offensive opportunity. Kansas City finished off the game with another touchdown, with the final score being 31-20, Chiefs.