Staying Physically and Mentally Healthy while Practices are Canceled (due to COVID-19)
Brooke Pierpoint '21 and Kayla Winn '21, Staff Writers
May 18, 2020
During the Coronavirus pandemic and the U.S. nationwide quarantine, it is crucial to practice good habits: healthy eating, exercising, a regular sleep schedule, and of course, focusing on mental health. Self-isolation presents fewer opportunities to be physically active, especially if you rely on school or club sports to remain active. Because sports practices will remain canceled until the infectious peak of the virus slows, it is imperative that we remain active in order to promote a happy and healthy mindset amidst these challenging times. We hope that you can add these tips to your daily routine to keep your body healthy and spirits high. 
PHYSICAL HEALTH: 
Physical activity is crucial to the wellbeing of our mind and body, especially when we have so much time on our hands. These are our favorite ways to stay active and feel refreshed:
Take walks: 

After a long day of sitting and virtual learning, it's important to spend time outside enjoying the fresh air and sunshine. Walking is a great source of exercise and rejuvenates you as you can listen to your favorite playlist or podcast, chat with a family member, or catch up with friends. Don't forget to social distance and wear masks. Make sure to bring your pet along with you and appreciate their company! 

Yoga: 

Yoga is a wonderful exercise that allows you to collect your thoughts and relax. Yoga increases flexibility, expands muscle strength, improves energy and vitality, and protects us from injury. Read Kelly McAllister's article for additional specific resources, such as apps and videos. For some added fun, zoom a friend and attempt crazy, but safe, poses!

Exercises (on YouTube): 

With sport practices canceled, it's hard to stay active, but online exercises are accessible and will help you maintain your fitness. Youtube has been a go-to for us during quarantine as there are several quick and thorough exercise routines available. Some of our favorite instructors include

Pamela Reif

, and

Chloe Ting

as their workouts range from easy to hard, and focus on the part of the body you would like to strengthen. Additionally, the Peloton app includes many challenging workouts that range from five to thirty minutes without any additional resources required, or classes that accompany treads or biking equipment.

Bike Ride: 

For some fresh air and new scenery, take your bike and go for a ride. Bike riding has been one of our favorite ways to exercise with our family and clear our heads. Remember to wear a mask or coverage in order to follow your area's safety rules regarding the virus. Don't forget a helmet!

Swim: 

Swimming is a fantastic way to relax but also stay healthy. Swimming

builds endurance, muscle strength and cardiovascular fitness which will help you maintain your fitness levels while remaining at home.
MENTALLY HEALTHY: 
Mental health is extremely important and hopefully, during this crazy time in our lives, you can take time to reflect and improve your state of mind. Here are some beneficial ways to tap into your happiness: 
Bake/Cook Healthy Recipes: 

Because of the virus, we haven't been able to visit our favorite restaurants and try new food, but we recommend experimenting with new dishes in your spare time. It is valuable to work on healthy eating habits which will fuel a healthy mind.

Carly Cristman

has some amazing healthy quarantine food ideas.

Some of our favorite healthy recipe ideas include

Tasty

,

five-minute breakfast

,

lunch

,

dinner

, and

dessert

. 

Read: 

After excessive amounts of screen time, reading is an amazing alternative to refresh our minds and utilize our imagination. With more time to focus on our mental health, sitting outside and reading a good book can calm our minds and leave us feeling refreshed. Reading strengthens the brain, builds vocabulary, reduces stress, and aids sleep. Do you like entertaining fiction novels? Our favorites include The Divergent Series, The Hunger Games, Cracker, Out of My Mind, and Not if I Save You First. If you are more inclined to interesting and educational nonfiction, read Malala, Open Your Eyes, Three Cups of Tea, Educated, and In Cold Blood. 

Watch a TV Show: 

Escaping the craziness of our world and watching a TV show provides a much needed break from schoolwork. Netflix, Hulu, Disney+, and Amazon Prime have binge-worthy options that are extremely popular. Our favorite shows include The Vampire Diaries, The Originals, How I Met Your Mother, Pretty Little Liars, Outer Banks, Riverdale, Ozark, Cheer, and Gossip Girl.

Meditate: 

We suggest meditating in the mornings right after you wake up to start your day off with a positive mindset. Pop in your headphones and listen to some calming music. During these unknown and stressful times, we suggest you relax and take your mind to a peaceful place. Headspace and Calm are well-known apps to help guide your meditation journey. 

Chat With Some friends on Zoom or FaceTime: 

Because of self-isolation, it's difficult to engage with friends, thus, we recommend zoom or facetime to talk with friends. You can even watch Netflix together with the new Netflix Party feature. Even if we don't see them every day, it is important to always maintain connection with those who love and support us.

Catch up on Some Sleep (But Don't Oversleep): 

Without the long daily commutes to and from school and other extracurricular activities, we are able to get so much more sleep! Take advantage of the opportunity to create a consistent sleep schedule; make sure to get a sufficient amount of sleep, but do not spend an excessive amount residing in bed because this can feed into lazy habits.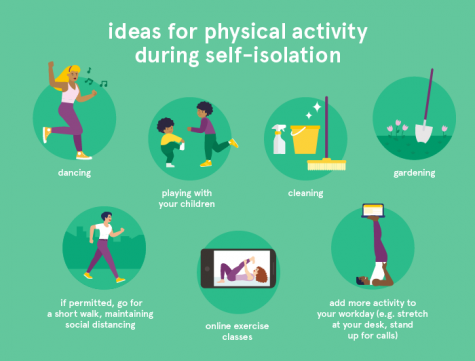 We hope these tips will help you to stay mentally and physically active while practices are canceled during these unfortunate times! Stay healthy!