Simple Christmas Treats for the Holiday Season
Ali Adams '20 and Catherine Villante '20, Staff Writers
December 9, 2019
With Winter Break just around the corner, what better way to get in the spirit than to whip up some super easy (and festive) treats? Light your favorite holiday candle, put on some Michael Buble Christmas music, and make something delicious! Below are eight super simple and fun treats to try out this Holiday Season. 
1. White Chocolate Peppermint Bark Oreos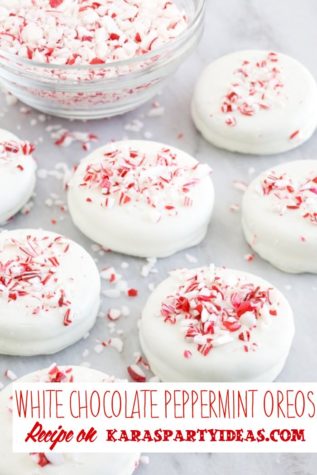 All you need are three ingredients: Oreos, white chocolate candy melts, and crushed peppermint candies. All you do is: 1. Melt white chocolates in the microwave for 30 seconds (and repeat until smooth) 2. Dip your Oreos into the white chocolate and place them on wax paper, and, 3. Sprinkle crushed peppermint candies onto the Oreos. Place in the freezer to harden. Enjoy this perfect winter treat for your next Secret Santa, holiday party, or your next solo Christmas movie marathon.
2. Santa Hat Brownies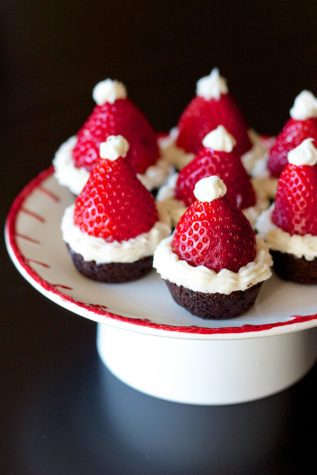 All you need are brownie mix, strawberries, and white chocolate chips. To do the details of the Santa hat, you can also use whipped cream frosting, or buttercream instead of white chocolate, whichever you prefer. First, place brownie mix in a mini-muffin pan and bake for 25 minutes. After the brownies are ready, cut the strawberries and place them upside down onto the mini brownies. Next, you can use white chocolate (or whatever you like) to create a ring around the strawberry and the tip of Santa's hat (the top of the strawberry). Just be warned, these mini treats will be gone in seconds. 
3. Frozen White Chocolate Popcorn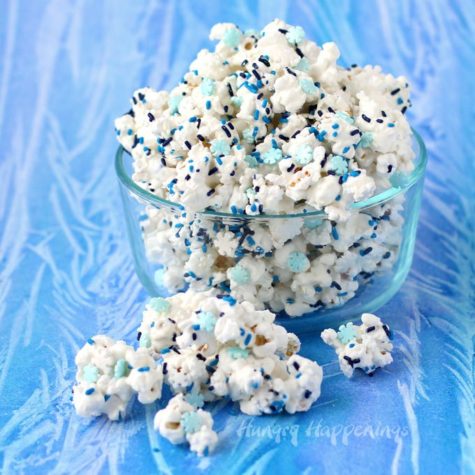 This recipe is the perfect treat in honor of both the holiday season and the release of Disney's Frozen 2. You will need: 7 cups of popped popcorn, 12 ounces of melted white chocolate, ½ cup of blue sprinkles, and  ¼ cup of candy snowflakes. The first step is to line a baking sheet with parchment paper. Next, pour melted white chocolate over the popcorn in a mixing bowl and mix it around. After the white chocolate is coated on the popcorn, pour out the popcorn onto your parchment paper and sprinkle the toppings onto the popcorn. Then, refrigerate the popcorn for about 10 minutes. Once "frozen," break apart the popcorn and enjoy a winter treat.