Quick & Easy Stay-at-Home Recipes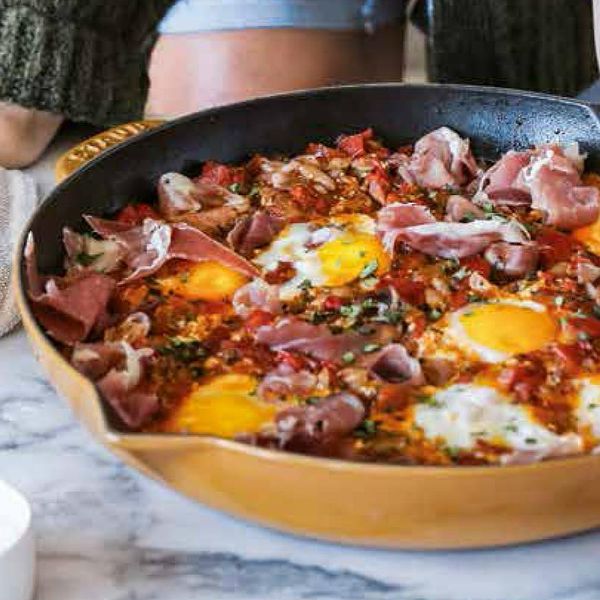 Because of the devastating consequences of COVID-19, we have been ordered to isolate ourselves, as we are all aware of by now. This leaves us with much more time on our hands, which can be boring and repetitive; however, I have a few solutions to spice things up a bit. I have put together a few of my favorite quarantine snacks and recipes that are very easy to make. I apologize if I have not included specific alternatives for each recipe, but I have provided several, so you will have a few to choose from that best fit your diet. Each recipe will only serve one person and I will include a quick review/tips for each recipe, as I have made each one. 
In the morning, I don't have much energy, so I like to make an easy, quick breakfast. I alternate between making a few, but my favorite recipe is skillet eggs. You will need 2 eggs, 1 green onion/shallots, 2-4 pieces of bacon (optional, but is super good), and salt and pepper. First, you will need to crack the eggs into a bowl and start mixing until you have your desired consistency. Add salt and pepper and combine it into the eggs. Second, add oil/butter to the pan and when that melts, pour the eggs into the pan. You can make your eggs any style you want: soft/hard-boiled, soft/hard scrambled, sunny side up, over easy/medium/hard, etc. When you are finished cooking your eggs in your skillet (or pan), add your diced up green onion/shallots, crushed up bacon (after cooking it, crush it into small bits, so you can sprinkle it onto the eggs). I suggest adding avocado on top, as it is another great topping. Personally, I am allergic, but I hear it's really good. I hope this recipe is a great meal to start the day!
For lunch, I enjoy having something healthy, so I make a salad, especially my favorite cucumber salad. I add either shrimp or chicken; however, for the cucumber salad, chicken is not necessarily a great pairing, so I normally make shrimp. (If you do not eat meat or seafood, I recommend making tofu or beans/sprouts instead)The ingredients you will need are 1 cucumber, 1-2 cups of soy sauce, and 0.5-1 cups of sesame seeds. First, cut the cucumber into thin slices and put it in the bowl. Then, take the soy sauce and sesame seeds add those to the bowl. Mix it around to make sure that the sesame seeds and soy sauce are evenly distributed within the entire bowl. It's up to you to add shrimp or chicken. For the shrimp, cut off the tail/end and put it on a pan to fry. I suggest that you add 1-2 tablespoons of lemon juice, salt, pepper, and 1 teaspoon of minced garlic. It should only fry in the pan for 6-9 minutes and don't forget to flip it using tongs halfway into frying it. For the chicken (I cook the chicken breast), dice it up into bite-size pieces and put it in the pan. On medium heat, add 1 tablespoon of olive oil, salt, pepper, and 1 teaspoon of minced garlic. When it is light brown, flip it over (that should be about halfway into cooking it). It should only cook for about 5-8 minutes. Make sure not to overcook the shrimp and/or the chicken or it will turn out dry and burnt. Also, I suggest making the chicken or shrimp first and while it is cooking, make the cucumber salad. It will save you a few minutes. Enjoy!
For dinner, I normally have a large appetite, so tomato and mozzarella and pasta is fantastic! For the tomato and mozzarella dish, it is quite simple. You will need 3-4 large tomatoes and enough mozzarella (up to your liking how much you want to add) to add on top of the tomatoes. It takes about 2 minutes to make and it's delicious! For the pasta (use gluten-free pasta if needed), you can put any kind and how much you want), you will need 1-2 caps of oregano, salt, pepper, ¼  stick of butter, and 1 teaspoon of minced garlic. First, boil a pot of water and add the pasta of your choice. Boil it for 7-11 minutes and then strain it. Then, take your pasta and put it in the pan (medium heat) with the butter (make sure the butter has softened a bit before putting the pasta in the pan). After 2 or so minutes of it in the pan, add the oregano, salt, and pepper. I suggest adding cheese while in the pan if you can have dairy. Mix it all together and after 5 minutes in the pan, it is ready to be served! 
For dessert, I like to make something small, yet delicious. I jump around a few recipes, but I have two favorites that take less than five minutes to make. The first recipe is delicious! All you need is 1 banana, some peanut butter (if allergic, use sunflower butter), and some chocolate chips. First, cut the banana into ¼-½ inch pieces. Then, spread the peanut/sunflower butter onto each piece and add 1 chocolate chip on top. Put it in the freezer when you add all the ingredients. After 15-20 minutes, take it out and enjoy it! A quick tip for this recipe is if you do not eat it all at once, keep it in the fridge or it will become mushy. For my second favorite dessert, you will need 2 tablespoons of cocoa powder, 1 tablespoon of sugar, 3 tablespoons of heavy whipping cream. First, add all the dry ingredients into a bowl and mix it. Then, add the heavy whipping cream and mix it all together to create a thick mixture. Now, you are finished! I suggest you add this into a glass of milk or add whipped cream on top. Both are delicious! Also, make sure not to over whip it because it could create a mousse instead of the thick mixture intended.