Rabbi Nicole Guzik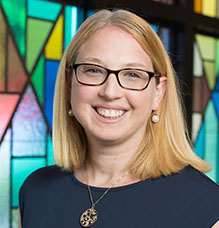 Lindsey Acquistapace '19, Staff Writer
March 18, 2019
Hang on for a minute...we're trying to find some more stories you might like.
As a senior in the World Religions theology class, I and the rest of my classmates were tasked with exploring non-Christian religions and subsequently teaching each other about them. I chose to explore Judaism because it is a religion I am so often exposed to, but do not know enough about. Caitlyn Caputo, Cami Carfino and I were lucky enough to receive a closer look at Judaism through the eyes of Rabbi Nicole Guzik. We were given this opportunity when she spoke to our school during community in December and when she graciously gave us a tour of Sinai Temple, the Conservative Jewish synagogue she presides over.
Our experience at the synagogue began in a jarring way. An armed security guard greeted us at the doors and took our names, our identification, and ushered us through a metal detector. The three of us felt unnerved by this and horrified at the growing necessity of the extra security needed. We gave our unrolled skirts a final tug closer to our knees and greeted Rabbi Nicole. While speaking about the recent attack in Pittsburgh, I expected her to talk about fear and grief. Instead, Rabbi Nicole spoke about the hope that she instills in her congregation for an accepting world in the future and the uniting power of the event, despite this tragedy. I feel so lucky to have been able to meet her as I got a better understanding of the fact that with hardship, faith prevails.