Locusts in Africa: The Other Plague
Bianca Kolim '22, Staff Writer
May 18, 2020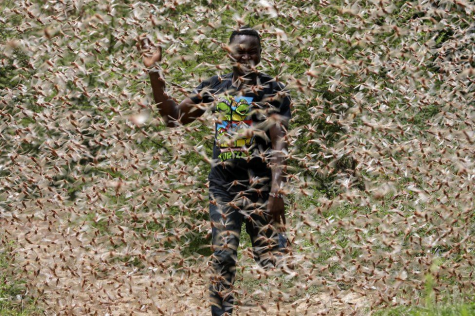 Overshadowed by the worldwide terror over the COVID-19 pandemic, East Africa, the Arabian Peninsula, and the Persian Gulf face another type of plague. Rapidly warming oceans, heavy rainfall, and cyclones over the past two years, produced an ideal climate for the breeding of hundreds of millions of locusts, originating from Yemen and spreading throughout its surrounding areas, such as Somalia, Kenya, and Ethiopia. Somalia declared a national emergency, as the locusts ravaged farmland and food supply, creating a disastrous threat to food security in the region. All countries struggle to contain the outbreak with limited supplies. Keith Cressman, an officer at the Food and Agriculture Organization of the United Nations, described that the "locusts [were] like 'a moving carpet of yellow and black objects' each behaving the same way, and packed together so densely that you can't even see the ground below them."
A swarm of locusts razes a shrub in Kenya. A second wave of locusts in the region is predicted to hit 20 times worse.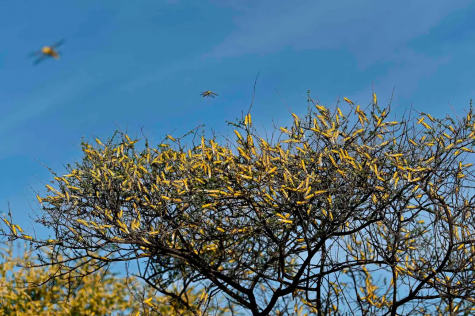 Along with general food insecurity from weather issues and the pandemic, 24 million people face food shortages with millions more requiring food aid. The UN projects that the number of locusts could swell to 500 times by June, affecting 30 different countries, if they fail to receive millions of dollars in aid. The locusts can eat their weight in food, easily travel with the wind, and cover 90 miles per day. Methods like pesticides, changing farming techniques, and insect growth regulators are currently in use to curb the crisis, but fully containing the outbreak costs millions; by then, countries would have already lost billions.
Local Somali farmers cover a field with a plastic tarp in an attempt to deter locusts from threatening their remaining grazing land.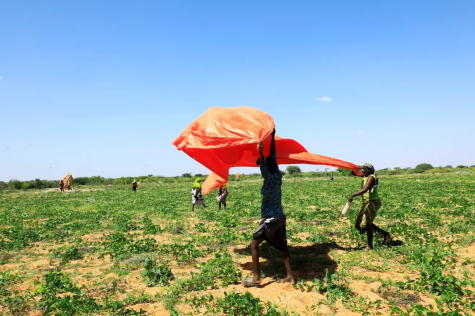 There is no certainty around when the crisis will end. Locusts breed without regularity, based only on favorable climates. The longest locust plague lasted 13 years, as desert locusts have a lifespan of 3-5 months. Furthermore, over time, the locusts could spread much further than anticipated. In 1954, a locust plague originating from northwest Africa ended up in Britain, while in 1988, a swarm from West Africa spread to the Caribbean.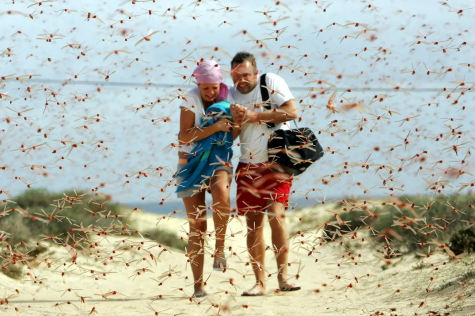 The COVID-19 outbreak further hampers efforts to stop the locusts' spread: shipping costs skyrocketed, borders internationally closed, and companies shut down, limiting the amount of aid, pesticides, and other critical supplies countries can receive and major shipping delays. With the threat of a greater plague spreading to Europe and the Mediterranean, regions already heavily impacted by the coronavirus, immediate attention and aid are crucial to saving millions from food shortage and famine.