Update on The 2020 Presidential Election
Taylor Thompson '20, Opinion Section Editor
May 18, 2020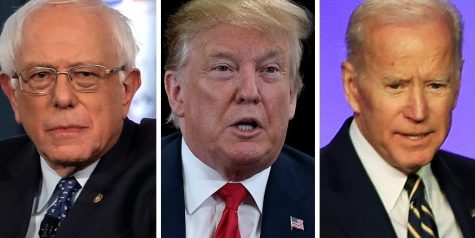 While it is important to 'socially distance' ourselves from each other in the wake of our world's pandemic, it is important not to 'socially distance' ourselves from our country's general election. 
With news channels predominantly covering the ebb and (mostly) flow of Covid-19, and the absence of physical rallies and campaigning due to stay-at-home orders, it is easy to forget about the race for presidency. However, the race is still happening — and much change has taken place in both parties in these last few months. 
For this election, the original pool of democratic candidates proved historically large, as 28 politicians initially ran. That said, who is still in the race? Joe Biden. That's it. 27 candidates have dropped out… and Biden has weathered the caucuses and primaries, coming out as the presumptive Democratic nominee. 
Who is Joe Biden and what does he stand for, you might ask? Biden is not new to the political scene, as he served as President Barack Obama's VP, completed six terms as senator in Delaware, and has previously run for President twice. 
From my research (ending on April 20,) Biden's platform touts a focus on health care. Although his plan does not speak Medicare for all, it is still a big deal, as it lays out an agenda for health care becoming a public option and a continuation of Obamacare. Additionally, Biden stands against the death penalty, cash bail reform, and private prisons. He seeks to raise the minimum wage to $15 an hour and supports paid leave for familial and medical reasons. He also believes that two years of community college or other higher educational training for all should be free and that there must be an expansion or fixing of existing debt-relief programs. In terms of the energy, environment, and climate change, his campaign advocates for the development of new environmentally-friendly technologies, the termination of new oil drilling, and the development of a tax on carbon emissions, all to aid our environment. Biden also believes strongly in universal background checks for purchasing assault weapons, the development of a national firearm registry, and a gun buyback program, enabling private gun owners to sell their weapons back to the government without prosecution. He claims to support women's reproductive rights, although, in the past, he supported the Hyde Amendment, which withheld resources from impoverished women in seeking reproductive healthcare. Lastly, he supports citizenship for DACA residents. 
Do all Democrats like Biden? No doubt, Joe Biden has acquired massive support among the Democratic party, but not necessarily for all of the right reasons. The main issue in this election is electability, as the Democrats want to support a candidate most likely to beat Trump. Joe Biden holds the support of minorities, and with his more moderate views than Biden, many Democrats think that he can rally democratic, independent, and moderately Republican voters. However, he does not hold support from all young democrats, who have proven more liberal and anti-institutional. He is often criticized for his disparaging of liberal activists, his hypocrisy in policies such as his changing perspective on abortion, proposal of an unconstitutional piece of legislation in only conducting busing only if discrimination is present, his changing views on gay marriage, and a sexual assault allegation, for which he denied. 
Why did Bernie drop out of the race? Electability. Biden sought to lead a "multigenerational, multiracial," progressive movement, uniting young voters and old; however, he trailed behind in terms of numbers with the moderacy of older voters in the democratic party. Biden takes a more centrist approach to many issues, as Sanders advocated for progressive measures such as Medicare for all, free college, ending all student debt, the termination of nuclear power reactors and fracking (a way to create pollution) everywhere, repealing the statute of illegal entry, and more.  In terminating his campaign, Sanders stated, 
"We are now some 300 delegates behind Vice President Biden, and the path toward victory is virtually impossible. So while we are winning the ideological battle and while we are winning the support of so many young people and working people throughout the country, I have concluded that this battle for the Democratic nomination will not be successful." 
However, Bernie Sanders is still on the ballot. While Biden is still predicted to secure the DNC nomination, Bernie Sanders seeks to influence policymakers and party leaders in staying on the ballot and continuing to garner ideological support among young democrats and the rest of the country. So, basically, if you want to, you can still vote for him in a state primary. 
As the presumptive nominee, many pundits have projected a Biden v. Trump election. So, let's return to the Republican Party incumbent, the 45th president, Donald Trump, as it is also important to assess his positions, his standings, and the likelihood of him winning. 
What does Trump stand for? Donald Trump believes in defending the Second Amendment, the right for law-abiding citizens to possess weapons of assault. He also thinks, in terms of education, colleges should make their tuition and debts more accessible for students, but does not believe in making any college education free. In regards to the environment, he takes a more central focus on America's economy and job employment, but also claims to protect clean air and clean water. As Trump has minimized the seriousness of Climate Change in the past, he has opened up new drilling sites, reversing several efforts to reduce carbon emissions. For the economy, Trump plans to continue cutting taxes in efforts of spurring job and wage growth, which has proven successful in strengthening our economy. Before the many business and city closures due to the pandemic, Covid-19, unemployment was at a 50-year low of 3.5%. Trump is strongly for limiting the welfare state, providing (limited) paid leave, a strong national defense (more money put into the military,) and moderately lowering healthcare costs. Additionally, Trump is pro-life and seeks more strict immigration laws and fights against sanctuary cities. He also has faced several sexual assault allegations, (at least 23 women since 1980), as you probably know. 
That said, it is important that you truly research all candidates, their positions, their actions, their characters, and the likelihood that they will initiate change. Although our world has slowed down, take this time to accelerate your quest for knowledge and understanding for this election. 
So wash your hands, wear your masks, and don't forget about our country's future.