Spring Break: Take it or Leave it?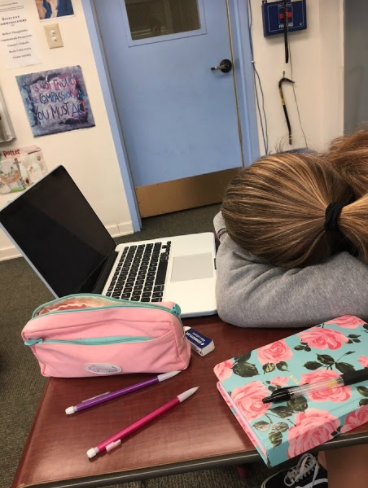 Hang on for a minute...we're trying to find some more stories you might like.
The following article presents two conflicting points of view on the importance of Spring Break from Junior Skyler Brown and Senior Amber Wall, in the style of initial commentaries and rebuttals.
Second semester can seem like a never-ending marathon. January, February AND March are jammed together, separated only by the constant weekends and an extra measly two days. The Friday of finals week — if you're lucky — and Presidents' Day — two weeks later — are our only opportunities to get more than five hours of sleep, spend guilt-free time with family and friends, and binge-watch The Bachelor. Yet, even these days of celebration are sorely won. One day off seems insignificant compared to the months of preparation going into finals, while Presidents' Day comes and goes in the blink of an eye. Then all everybody can think about for another five weeks is Spring Break.
Spring Break (*sigh*), a blissful two weeks of freedom before two more months of school. But is Spring Break truly worth it? Should we trade in those two weeks for a longer, sooner summer? I believe Spring Break cannot be sacrificed; the benefit of breaking up an extended period of school must not be understated. However, Amber, a Senior filled with the desire to be done with high school, argues otherwise.
While I understand Skyler's hesitation to forfeit a relaxing and truly well-deserved two-week vacation for a slightly longer summer, the negatives of Spring Break outweigh the positives by all means.
Having a long break in the middle of Second Semester surely disrupts every student and teacher's school routine and makes us all the more likely to suffer from the infamous post-vacation blues, decreasing our desire for "work productivity following a satisfying vacation" as articulated by WikiHow. Instead, wouldn't you rather push through a short two-weeks of school, which seems like a trivial amount of time in the scheme of things, to enjoy a real-summer vacation? For me, the answer is a definite "yes." To put it in perspective, eliminating the Spring Break vacation would allow students to get out of school on May 18th, giving them a long 3 months and 9 days to travel the world, catch-up on sleep, and hang out with friends and family. For those Marymount girls participating in internships over the summer, they would have more time to become immersed in their work environment and learn from mentors instead of only being able to go in for one week at a time between vacations or college-prep programs.
In my personal experience, I felt that I didn't have enough time last summer to engage in the college-summer program I wanted to attend, get a head-start on my college applications, and be present for week-long projects at my accounting internship. I recall my mentor saying that he wished I had more time to learn the ropes and spend multiple weeks in a row on a project instead of just a few days; with a longer summer, this could be a reality. Even if you aren't one of the students engaging in a Marymount internship, cutting the Spring Break entirely would undoubtedly give those who want to travel the time to do so. Besides, there is definitely a better chance that the weather will be "sunny and 75" in the remaining days of May, June, July, and August rather than in March. I may be biased as a senior who wants to have extra time over the summer to wind down before college starts in the fall, but for these few important reasons, I would argue that Spring Break hurts the productivity of students more than it helps them.
Amber brings up many great points about the benefits of having a longer summer, but we cannot dismiss the importance of breaking up an extended period of school. Spring Break is the perfect time to embrace the start of warm weather (or slightly warmer, as we live in LA), travel, spend quality time with family, or celebrate the break with friends. While weekends allow students to relax and rejuvenate, it does not compare to the opportunities of Spring Break. We are granted fifteen full days to have fun and do whatever we want (of course, leaving that sixteenth day to cram finishing homework or reading an entire English book). As you mentioned, these are things we can accomplish during an extended summer, but a break in the middle of the second semester improves students' physical and mental health. As fun as school days fueled by four hours of sleep and a venti iced latte are, they do not quite measure up compared to weeks of sleep. According to the American Academy of Sleep Medicine, insufficient sleep causes lower grades and lower motivation. Spring break is the perfect time to reset, enabling us to finish the year strong.