Women's Football Part I: Tackling Double Standards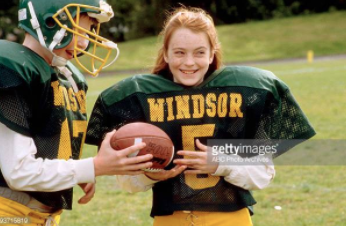 Hang on for a minute...we're trying to find some more stories you might like.
As I watched the game on Super Bowl Sunday, I found myself wondering why football was only played by men in high school and college, or why women's football didn't exist at all. I couldn't help but note this frustration to my friend, as I asked her why she thought girls haven't been given the option to participate in tackle football. Her response was something along the lines of, "football and tackling is just a manly nature" and that "women aren't driven to the activity the sport requires." Without even realizing it, my friend revealed that society has convinced people to believe that certain behaviors, for instance "tackling," are only acceptable for males, while others can only be performed by women.
Although the typical gender standards are evident for all of us in everyday life, I had failed to notice that the double standards are only created by society. Girls are not typically given the opportunity to play football due to the unspoken belief that it is not a sport for girls. Most kids I know played on at least one recreational team sport by the age of 10. Whether it was soccer, basketball, or t-ball, both boys and girls were able to pursue the same sport from a young age. As we got older, some of my friends stuck with one of those three sports, while others were offered to play flag football. If young girls ages 10 and below were able to endure the same sports as the boys their age through soccer, t-ball, or basketball, why should they be denied from having their own flag football team? Society would answer that girls aren't inclined to play football; my answer is that they were never given the option.  
My personal belief that it was unacceptable for girls to play football was introduced as a toddler, through reruns of my favorite Disney Channel Original Movie, Life-Size (2000). Before I could even form logical sentences, I was able to understand that 13 year-old Lindsay Lohan's character was only able to play on the boy's football team if she was disguised as a boy, with her hair tucked into her helmet.  In the very first scene, the gender stereotypes are enhanced when Lohan's male teammate tells her that she "throws like a girl, and should just go play with her dolls." The subtle notion implying that girls don't throw well and should "play with dolls" instead of playing football framed my belief that it was unacceptable for me to play football because I am a girl.    
I revisited this societal limitation in middle school when my sister wanted to play flag football. Our school didn't have a team for girls, so her only option was to play with the boys. When she signed up for the team, the athletic director told her she was not allowed to play because the sport was "too physical." Although the middle school had a "no cuts" policy, my sister was cut before even trying out. While boys who were much weaker and smaller were permitted to play without a question, my sister was not even allowed to try out for the team simply because she was a girl. Recalling my sister's experience caused me to further question why football is a sport that only boys are allowed to play.
However, my belief that girl's football did not exist was shattered over President's Day weekend, when I was volunteering at Camp Harmony, a non-profit organization that provides a sleepaway camp experience to underprivileged and homeless children ages 6-12 throughout Los Angeles County. At Camp Harmony, I was a camp counselor for a group of 11 and 12-year-old girls in Malibu, one of whom I'll call Maya told me that she played tackle football.
Out of all the extracurriculars to choose from, Maya decided to play football due to her belief that "girls are equally as strong as boys, even though everybody thinks that boys are tougher than girls."  Maya plays on a co-ed tackle club team for girls and boys ages 11 through 14. A typical practice includes a scrimmage of boys versus girls. Maya explained that the boys don't go easy on the girls because, "if [the boys] don't win, they have to do push-ups…and if [the girls] don't win, [they] have to do push-ups." On her team, both boys and girls are treated the same. Due to the equal treatment on her team, neither gender is afraid to tackle one another and they are both encouraged to play to their highest capabilities. Maya plans to continue playing football once she is in high school and has made it evident that she has no plans of giving up her dream when she stated: "I think I could [play high school football], I should be able to. If they don't let me, then I can just go back and [coach] them."
While many of us have let society mold our choices, others, like my camper Maya, are able to defy the boundaries that restrict us from chasing our dreams. While I noticed the clear inequality between male and females in football, my 11-year-old camper saw no difference between herself and the boy athletes who play on her team. She chose to participate in society's arguably most masculine activity to prove a point to her father that she is just as strong as any boy she knows. Rather than paying attention to the lack of recognition that female football players receive, Maya anticipates that regardless of her gender, she will continue to play the sport she loves, and will not let anyone get in her way. While some girls get offended when they are told she "throws like a girl", Maya proudly says "thank you."