Pressures of Spending Money on Spirit Week
Skyler Brown '19, Staff Writer
March 18, 2019
For one week each year, it becomes commonplace to see girls decked out color coordinating tutus, glitter, and onesies. Each Marymount courtyard becomes a sea of purple or red or blue or pink. With Marymount's Spirit Week comes class bonding, friendly competition, dance practice, as well as the need to find decorations and costumes. Courtyards seem empty without customized banners and colored streamers and dressing up remains one of the week's highlights.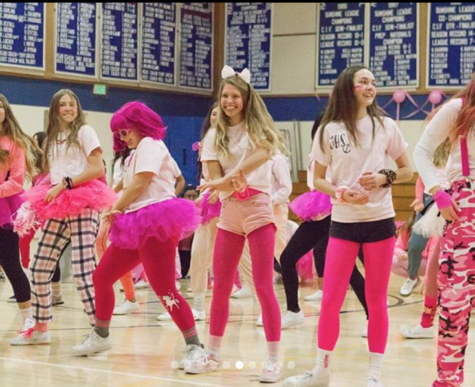 Perhaps I am the first to admit that I do not have boxes of purple decorations – up until recently, I did not own purple fairy wings. As soon as my class settles on the year's costumes, I do an Amazon search in hopes of finding the perfect outfit.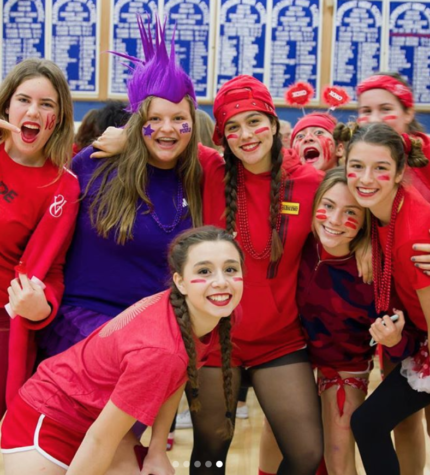 Lingering around Spirit Week is the unsaid pressures of looking the part. Whether motivated by the desire to partake in the fun, or simply not being the only member of your class not in a unicorn onesie, purchasing a costume can feel like the only option. Even the culminating class color day seems littered with colored tutus, wigs, and leggings. Most students resolve to buy something different every year. Some bring boxes full of items or wear a new wacky costume every day; I myself recently added a purple sweatsuit to my growing shelf of purple pieces without really considering that I will never wear it again. But the truth is that spending money should not feel like an obligation.
Now to clarify, I am not suggesting that administration or ASB is suggesting that we must spend money to successfully participate in Spirit Week. ASB always makes an effort to discuss DIY options for creating costumes and decorations. But, in reality, some themes are difficult to convey without specific pieces and buying pink face paint to color all your friends' faces does add to the excitement of the day. It is also hard to devise up ways to combat this issue. You cannot tell eighty-four seniors that they are forbidden from buying fairy wings and expect nobody to go ahead and buy them anyways.
But, maybe, we could make an effort to choose costume themes that would enable us to re-use costumes from previous years. The same could go for decorations. Graduating classes can donate costumes to the school in case incoming classes happen to choose the same color. I know that I am hoping that the college I attend next year uses purple as their color – I definitely have a lot of options for game days.