Teaching at Marymount
Stephanie Sowa '21, Athletics Section Editor
March 18, 2019
One thing that makes Marymount special is its teachers who bring their enthusiasm and love for teaching every day, regardless of the circumstances. Each department is filled with dedicated and encouraging educators who love their students and prepare them for whatever will come their way beyond high school.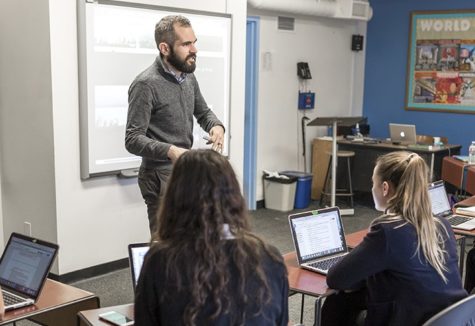 Mrs. Brady, the head of the English department and a proud alumna, shared her experience teaching at Marymount. During my time at Marymount, she has delivered insightful speeches at our annual "Capping and Pinning" event, expressing gratitude for her time here and how special the Marymount community is. Sharing her thoughts, Mrs. Brady said, "You may hear this from all the teachers, but the best thing about teaching at Marymount is, hands down, the STUDENTS! Marymount students are in a class all their own. (No pun intended.) They are intelligent, well-spoken, caring, thoughtful, willing to stand up for what they believe in, and a joy to teach. They keep me on my toes each and every day, and make me love my work even when I'm in a bad mood."
Mrs. Brady shares how important it is to have motivated students on campus. Students are inspired to work hard and encourage other members of the community to do the same.  Furthermore, Mrs. Brady expressed, "Every time visitors come on campus, they are always struck by how impressive the Marymount students are. It can be any group of students — there is just something uniquely confident and compassionate about a Marymount woman." Teachers are proud when witnessing interactions between Marymount students and people outside our school community because it shows that the time and effort put into every student by each teacher has a collective benefit.
Although the students are a crucial part of success at Marymount, Mr. Beckner, a history teacher, shares the importance of working with others who are passionate about what they teach. He discussed his special experience with his fellow colleagues, how they continue to push and inspire him. Mr. Beckner said, "The generosity and collegiality of our social studies team is what first attracted me to working here, and it has continued being a major contributing factor to my happiness as a Marymount High School teacher. The support of my colleagues makes the hard work even more rewarding than it already is." Having colleagues who are interested in the same subjects and support one another in each one's endeavors provides a strong sense of community on campus. Marymount girls thrive because they have confident teachers who want to teach them and they are constantly motivated by others in their department. Teaching at Marymount is a rewarding experience because the support from colleagues allows each department to flourish and positively influence each Marymount girl who will go out into the world to share what they have learned from their teachers.