Shut Up and Act: Celebrities Speaking About Politics at Award Shows
Freddie von Siemens '21, Staff Writer
March 9, 2020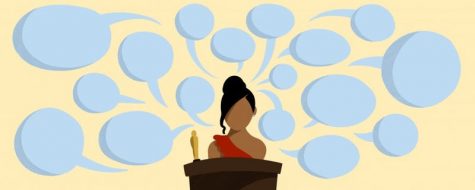 Each year during award show season, people around the world drop everything to see who the lucky winners are and what they have to say. Whether it be the Oscars, the Golden Globes, the Emmys, the Tonys, or any other award show, winners in each respective category deliver a speech to commemorate their success, usually with the intention of making an impact on the audience. 
While some choose to dedicate their award to their families and loved ones, and many thank "the Academy" or whoever hosts the award show, it is becoming increasingly common, in our day and age, for celebrities to discuss politics in their speeches. This has provoked a variety of responses from viewers: some positive, some negative and some that fall in between the two.
Given our sociopolitical climate in 2020, I think that these types of speeches can go one of two ways: either it makes a profound impact on the audience and brings awareness to an issue in a productive way or it can arouse controversy and discomfort among audiences due to specific diction or extreme views. Many viewers watch awards shows and look forward to the speeches to hear about the beautiful films, shows, and performances that have been created, not so much the political views of the winners.
In Oprah Winfrey's acceptance speech at the 2018 Golden Globes, she addresses the Me Too movement and the heart-wrenching stories of many women who were victims of sexual assault and abuse. She ended her speech by saying, 
"I want all the girls watching here and now to know that a new day is on the horizon! And when that new day finally dawns, it will be because of a lot of magnificent women, many of whom are right here in this room tonight, and some pretty phenomenal men, fighting hard to make sure that they become the leaders who take us to the time when nobody ever has to say, 'Me too' again. Thank you."
Oprah received almost nothing but praise for her moving speech and it seemed to go over very well with the audience; however, some discomfort was felt by the white men in the audience, as Oprah mentions crimes committed by white men in her speech. This is an example of how even the most inspirational, well-timed speech will always manage to make somebody in the audience uncomfortable, no matter who it is or what the subject matter is.
Oprah's speech, however, was largely about a societal issue that was becoming far too common, while many other award winners and nominees choose to discuss party politics and presidents in their speeches, specifically our current president. In cases like that, I think that some things should remain unspoken on such a large platform, as every person in the audience will have their own respective opinion and a portion of the group are likely to disagree with the speaker whether or not they openly express their disagreement. I think it is an actor or actress' job to inspire people of all ages to pursue the arts regardless of race, gender, orientation or anything else, which is what Oprah and other celebrities like her are trying to achieve. They are also responsible, of course, for using their platform to promote positivity and denounce hatred and vulgarity, however, this does not always apply to political debates. It is not an actor or actress' job to influence their audience politically and there is no way to predict how a given fan base or group will react. For this reason, I feel that celebrities should always be allowed to express themselves and shine a light on issues in our society, but they should speak with caution depending on the who, what, when, where, why of the situation.