Inequities in Education – LAUSD Remote Learning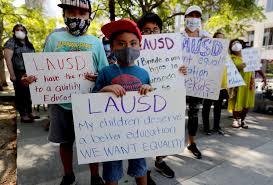 With the coronavirus situation worsening in Los Angeles, Marymount High School was able to swiftly create an online plan for its students. Because the majority of Marymount students have internet access at home, having classes over Zoom was not a problem and an easy solution as a means to continue our education. However, not all schools have been able to implement similar policies.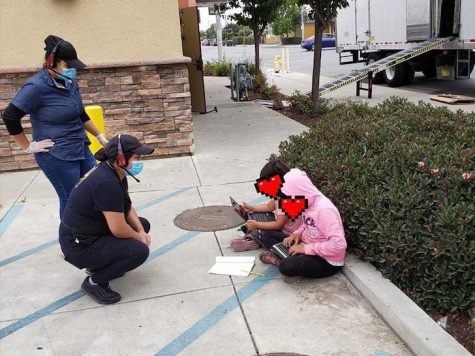 COVID-19 has severely affected many families financially. Many low-income families do not have access to a computer or internet connection while employing distance learning. According to a survey done by researchers from the University of Southern California who worked with Partnership for Los Angeles Schools, if a family has access to a laptop, one in five people lived in a household where computers needed to be shared among family members. Additionally, many LAUSD families have lost income and faced food shortages during this time. Due to such circumstances, many students do not join their online classes, which only pushes them further back academically.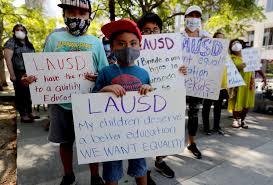 Although LAUSD has taken measures to aid their students, providing millions of meals to students and partnering with many different companies to help continue students' education (For example, LAUSD has partnered with Verizon to try and give free internet access to students in need and Amazon to provide noise-canceling headphones to help students hear and understand their lessons), LAUSD schools have failed to engage their students in their lessons. According to the aforementioned study, 37% of students never or rarely have a quiet area at home to learn, meaning that their attention span is very limited. Many parents dislike the path LAUSD has taken to distance learning (especially the way their children are reacting to it). Additionally, parents feel as if their children are not getting enough one-on-one time with their teachers and falling behind academically. Because attending in-person school has a high risk, especially with a large number of students entering and exiting classrooms, parents believe that teachers need to improve their method in engaging students because if they do not, students have no motivation to pay attention in class. LAUSD has overall faced many difficulties following the COVID-19 pandemic, and many children are being affected by their lack of resources to learn.
Many LAUSD students do not have access to the same daily benefits that we may take for granted. As Sailors, we are blessed to receive an amazing education given to us by wonderful teachers, whether we learn in-person or online. LAUSD is giving its best attempt to improve overall learning for students with the many partnerships it has undertaken, but until the pandemic ends, many low-income students will continue to suffer due to their situation.