Teacher Profile: Mr. Cooperman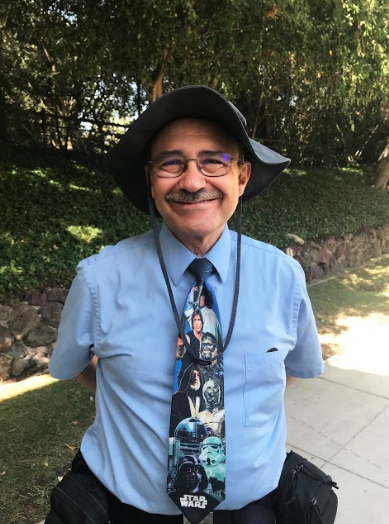 Hang on for a minute...we're trying to find some more stories you might like.
Who's the punniest teacher on the Marymount campus? Someone who has previously worked alongside Ms. Whittell, is longtime friends with Dr. Doan and whose former student was Ms. Gonzalez? It's Mr. Cooperman!
Clearly a perfect match for the Marymount Community, Mr. Cooperman is the newest addition to our science department! You may have seen him seen him walking around campus—perhaps his signature physics-themed tie caught your attention? Behind the snazzy ties, captivating conversation starters and amiable presence lies a Yale graduate with a true passion for physics. Despite being just one month into the year, he's definitely accumulated an impressive reputation amongst the Marymount Community. Though not an astronaut (yet), his astrophotography, array of accomplishments, and Mr. Cooperman himself are definitely out of this world.
How have you been enjoying Marymount so far? Any fun experiences you'd be willing to share?
I like [Marymount] a lot. The students seem really genuine and very eager to learn. Seriously, I also learn while I teach. Students may ask different questions on the same topics I've taught for years and years, and I'll think, "Ah, I've never thought of it that way before."
A lot of it has been fun. The AP Physics and the Honors Physics. If teaching weren't fun, I wouldn't do it anymore.
Where did you grow up?
Mostly, California. I was born in [San Antonio,] Texas, but I don't remember any of it. I moved around a bit. My dad went off to Korea; he was in the Air Force, so we went to Philadelphia [and then Tucson, Arizona]. Since age 14, I've been in California, except when I went back East to [attend Yale University as a physics major].
When you were a kid, what did you want to do when you grew up?
Really early, I wanted to be a doctor. But, since the age of 4, I've always been interested in what was in the sky. For some reason, I asked my dad where the moon was in the middle of the day. Instead of saying, "Go away, kid, there's no moon in the daytime," we found it in the daytime sky in Arizona. So, then I was interested.
Do you have any hobbies or interests that you'd be willing to share?
I lecture at Griffith [Observatory, in the Planetarium]. Since 1976.
And astrophotography, I do a lot of that.
This was a shot of the moon I took on June 2nd. I took this myself.
That's the sun right after the eclipse, on September 4th.
"All of my astronomy albums are open [to the public] because the sky really belongs to everyone."