Spirit Week at Marymount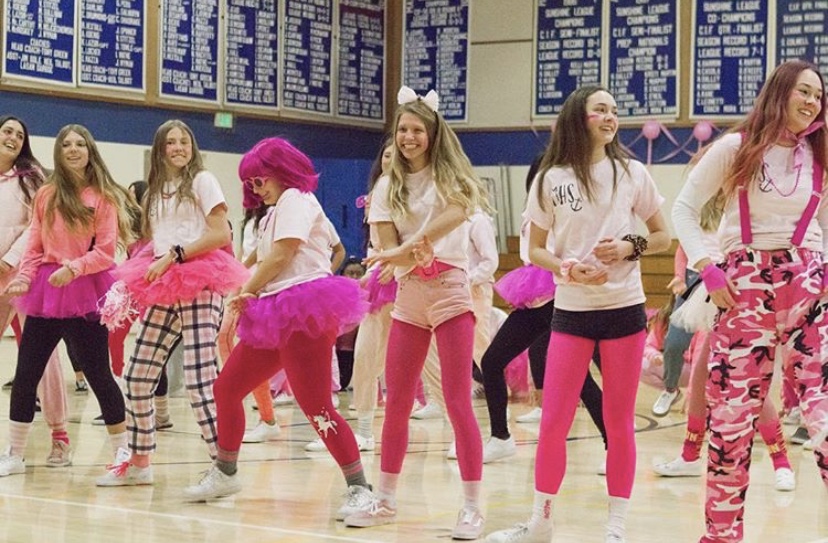 Stephanie Sowa '21, Athletics Section Editor
March 18, 2019
Spirit Week at Marymount is a time of intense excitement and friendly competition. Even the teachers understand how passionate the students become during the week. Seniors prepare for their LAST spirit week as a sailor and hunger for domination. Freshman are anxious to experience their first spirit week at Marymount as they are enthusiastic and prepared to bring everything they've got. Sophomores and Juniors are also pumped and ready to bring the energy although they are consumed with their heavy workloads, and they are not motivated by college approaching like seniors. 😉
This year we had a unique schedule as the community celebrated Founder's Day before the spirit took over the campus. Everyone enjoyed a relaxing long weekend that allowed each girl to prepare for the upcoming week. On the Tuesday following President's day, the community gathered to learn about the incredible individuals who dedicated their lives to the mission of Marymount. Starting Wednesday, the fun began!
Each day there was a different theme. Wednesday was fantasy day, Thursday was the all-out color day with class dances, and Friday was decade day. Every grade has a class color: this year's seniors are purple, juniors are blue, sophomores are pink, and freshman are red. The objective was to immerse oneself in the theme using their class color. The first day, freshman were vampires, sophomores were princesses, juniors were unicorns, and seniors were fairies! The campus was filled with whimsical creatures and characters which made school much more exciting. On Friday, the last day of our spirit week, freshman were from the 60's, sophomores from the 70s's, juniors from the 90's, and seniors from the 2000's. It could definitely be said that there was a blast from the past!
One of the most highly anticipated days of the school year, class color day, arrived. That Thursday, individuals from every class arrived at school and headed into the gym. People decorated their bleachers corresponding with their class color for a more spirited venue. Once the time arrived, Marymount girls piled into the gym with teachers ready to watch the annual class dances. Before and in between dances, fun games were played in order to gain more spirit points, such as musical chairs and trivia. Finally, it came time for the dances.
The dances are an annual source of connection and entertainment where everyone works together to create a powerful message to share with the community. It creates a sense of belonging within each group while promoting bonding and sisterhood. The event allows each year to express their individual flare as they are choreographed by students who are motivated by success. Each grade came up with amazing routines. Freshman came out strong and looked great in their large see of red. Sophomores proved how awesome they are with their difficult moves and catchy playlist. Juniors were coordinated and impressed the community. Seniors achieved their long awaited win with great stunts and a memorable routine.
Senior Margad Bayarmagnai shares, "spirit week was really nostalgic because it's so wild to realize that it's your last year wearing all purple and going all out with your classmates. It's definitely something that I'll miss a lot about Marymount. Adding on to this senior perspective, Jillian Neuner explains that, "this year was [her] favorite spirit week because [her] class really worked well together to learn [their] dance and wear spirited clothing. The energy on campus was so fun, and [she's] so sad it's [her] last spirit week, as it was always [her] favorite time of the school year!" From the freshmen who have never experienced spirit week before, Charlotte Rasmussen said, "I thought spirit week was really exciting and a  great way to bond with my classmates. From making the dance, to performing it, we all had so much fun and enjoyed being with one another. I can't wait for next year!" Although this freshman has an older sister, Lindsey Riddell shared, "I was really excited because I've heard so much about it from my sister and her friends. I enjoyed the dance a lot because all of us got to learn it together and it was a lot of fun." Other freshmen such as Maren Pennell and Eva Muldoon expressed what a great bonding experience it was and how close they grew with their other classmates. And to top it all off, Friday night was Marymount's Winter Formal! Everyone is looking forward to next year's spirit week!