What to Do With Thanksgiving Leftovers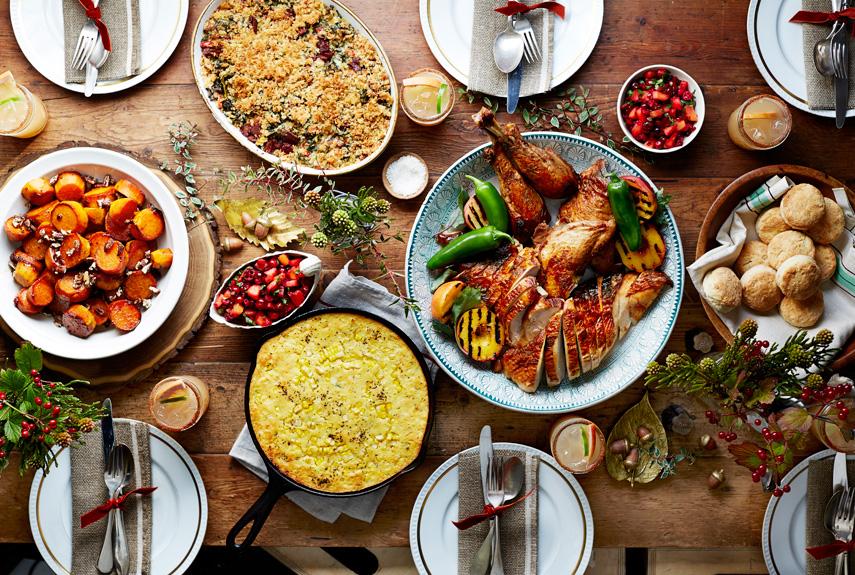 Ava Prunier-Herman '19, Staff Writer
December 12, 2016
Thanksgiving is a holiday spent with your family and friends. This day is spent preparing and eating a graceful meal that you usually make once or twice a year. The big TURKEY, the butterball, the main course and center of this great feast can be prepared in a crazy or simple way, but is always great even if your dad forgot to get a turkey and ended up getting a big chicken instead! It is the holy grail of all meals, and is devoured in seconds. But there is always the case that you will have your fridge stocked to the rim with leftovers for the next two weeks. The main question after you have gained 10 lbs. is, "what do I do with all of these leftovers?" Well I am here to help! Today I have created 4 amazing dishes that you can make after the food feast is over!
Turkey and Corn Enchiladas:
You'll start with shredded roasted turkey or chicken (from a leftover or rotisserie bird) and mix it with corn, cheese, salt and pepper. Roll the filling into flour tortillas, transfer the enchiladas to a baking dish, and top the whole thing with store-bought enchilada sauce. After baking the dish for 20 minutes or less, garnish with chopped fresh cilantro, and you're ready to eat. (Two enchiladas per person).
Directions:
Heat oven to 400° F. In a large bowl, combine the turkey, corn, 1 cup of the cheese, ½ teaspoon salt, and ¼ teaspoon pepper.

Spoon the mixture onto the tortillas and roll. Place seam-side down in a 9-by-13-inch baking dish.

Top with the sauce and remaining ½ cup of cheese. Bake until heated through and beginning to brown, 15 to 20 minutes. Sprinkle with the cilantro and serve.
INGREDIENTS:
2 cups of shredded turkey

1 cup of frozen corn

1 ½ cups of Mexican mixed cheese (or any cheese the you desire!)

Kosher salt and black pepper

8 small flour or corn tortillas

1 cup of store-bought enchilada sauce

¼ cup of chopped cilantro
Turkey Hash with Brussel Sprouts and Onions:
Heat oven to 400 degrees.

Put 4 tablespoons butter in a large cast-iron skillet over medium-high heat. Add bacon and fry lightly for 1 minute, then add onions and reduce heat to medium. Cook, stirring occasionally, until onions are soft and beginning to color, about 10 minutes. Season well with salt and pepper.

Add turkey and sage. Stir to coat well. Let sizzle, adding more butter as needed, until mixture is well browned, about 10 minutes. Check seasoning. Add broth, if desired, and transfer skillet to oven. Bake, uncovered, until broth is absorbed and hash is crisp, 10 to 15 minutes.

Meanwhile, cook brussels sprouts: Heat a small amount of butter or oil in a skillet over medium-high heat. Add slivered sprouts, salt and pepper; stir-fry briefly, until sprouts are just cooked, about 2 minutes. Stir in scallions and jalapeño. Spoon sprouts over hash mixture and set aside to keep warm.

For each portion, cook 1 large egg sunny-side up. Top hash with fried eggs and garnish with cilantro sprigs
INGREDIENTS:
12

ounces parsnips, chopped, about 2 cups

Butter, oil or lard

4

ounces thick-sliced bacon, cut into 1/4-inch lardons

1

large onion, diced, about 2 cups

Salt and pepper

1

pound cooked turkey, preferable dark meat, diced

2

tablespoons chopped sage

1

cup turkey or chicken broth

1 ½

cups slivered brussels sprouts

6

scallions, chopped

1

jalapeño, finely chopped

4 to 6

eggs, for frying
THE BEST THANKSGIVING SANDWICH OF YOUR LIFE:
The main idea for this lovely dish is to take every one of your favorite thanksgiving dishes and to make a sandwich out of it. This sandwich can have everything from turkey, mashed potatoes, cranberries, and stuffing on it, or it might just have a nice warm piece of turkey on it and nothing else. This is a sandwich anyone can make, and YOU SAY WHAT GOES AND WHAT STAYS. This is an easy dish that you can make in your sleep, and will make your mouth water!
TURKEY STIR-FRY:  
Combine rice wine or sherry, stock and soy sauce in a small bowl.

Heat a 14-inch flat-bottomed wok or 12-inch steel skillet over high heat until a drop of water evaporates within a second or 2 when added to the pan. Add oil to pan and swirl it around.

Immediately add garlic, ginger and red pepper flakes and stir-fry for no more than 10 seconds. Add brussels sprouts and stir-fry for 2 minutes. Add white and light green parts of scallions and bell pepper and stir-fry for 2 minutes. Add turkey and broth mixture. Sprinkle with salt and pepper to taste and stir-fry for another 30 seconds to a minute.

Add cilantro, toss together, and sprinkle with green scallion ends.
INGREDIENTS:
1 tablespoon rice wine or dry sherry

¼ cup chicken, turkey or vegetable stock

1 tablespoon soy sauce, more to taste

2 tablespoons grapeseed, canola or peanut oil

1 tablespoon minced ginger

2 fat garlic cloves, minced

½ teaspoon red pepper flakes

1 ½ pounds brussels sprouts, trimmed and quartered

1 bunch scallions, cut diagonally in 1/2-inch lengths, dark green parts separated

1 red bell pepper, cut in thin 2-inch strips

1 cup shredded turkey

Salt and pepper, to taste

¼ cup chopped cilantro