"Luck of the Irish" Meal
Chae Kim '19, Ava Paulson '19, and Tessa Luini '19
March 13, 2017
St. Patrick's Day is a unique holiday to experiment and cook green-themed meals to share with family and friends. So, we chose delicious, simple, and creative recipes that embraced the "green" of this special day! Our meal includes kale chips, mini shepherd's pie, green cupcakes, and a matcha green tea boba!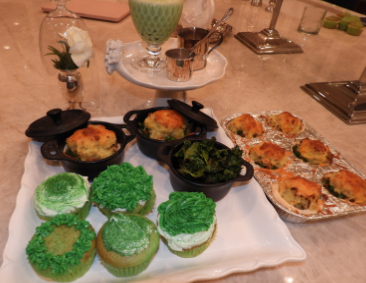 APPETIZER – KALE CHIPS (takes 10 minutes)
Ingredients:
Bundle of kale

Olive oil

Salt

Pepper

Pan

Parchment paper (optional)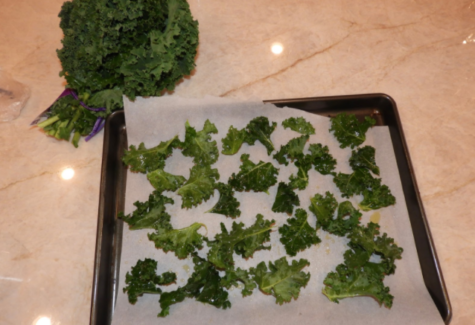 Steps:
Set oven to 350°F.

From a bundle of kale, tear off leaves from stems and put them in a bowl.

Pour a little olive oil into the bowl and rub it onto the kale with your hands.

Sprinkle salt and pepper.

Lay down parchment paper on pan (optional)

Lay out kale on a pan and bake in the oven for about 10 minutes until kale is crisp.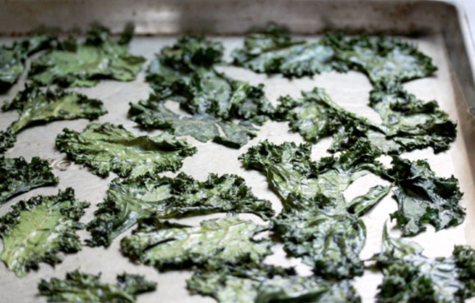 DRINK – MATCHA BLENDED BOBA
Ingredients:
2 tablespoons matcha powder (you can use Trader Joe's)

1 tablespoon honey

1 cup milk

Handful of ice

Boba (either from restaurant or homemade)
Steps:
In a blender, put in the matcha powder, milk and ice.

Blend until thick consistency

Put boba in a glass, and pour in the drink in

Enjoy!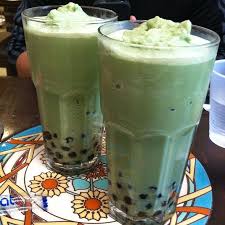 DINNER – MINI SHEPHERD'S POT PIE (Serves 12, takes about 1 hour)
Ingredients:
2 9" refrigerated pie crusts

1 lb. ground beef

1/4 diced yellow onion

1/2 teaspoon minced garlic

1/2 bag of baby peeled carrots, diced

1/2 bag of frozen peas

1 beef bouillon cube

1 teaspoon tomato paste

Salt and pepper to taste

Shredded cheddar cheese (to top mashed potatoes, optional)

2 cups mashed potatoes (we used 2 lb. bag of Yukon Gold potatoes)

Mini muffin pan with 12 cups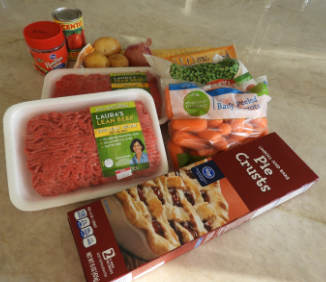 Steps:
Prepare mashed potatoes and set aside for later. 

In a pan over medium-high heat, brown the beef until fully cooked. Drain off any excess fat. Remove from heat and set aside.

In separate pan, saute diced onions and garlic until translucent.

Add the cooked onions and garlic into beef.

In the same pan with the beef, add the tomato paste and season with salt and pepper to taste. Turn heat to a low simmer.

Dice carrots.

In separate pan, saute peas and diced carrots until soft.

Meanwhile, unroll the pie crusts and roll each crust to 12″ in diameter (thin enough for it to crisp in the oven). Cut 12 4″rounds from each crust

Press each round on the bottom and sides of the muffin pan.

Bake at 350°F

 

for about 8 minutes or until lightly browned. Remove pan from oven and set aside.

Fill about 1/2 of every cup with beef mixture and then fill the rest with the carrot and peas mixture.

DESSERT – "GREEN" CUPCAKES (serves 12)
Ingredients:
2 cups of flour

2 teaspoons of baking powder

1/2 cup of softened butter

3/4 cup of sugar (you can add more if you want your cupcakes sweet!)

2 eggs

1 cup of milk

Green food coloring

1 teaspoon of vanilla essence

Green sprinkles for decoration

Cream cheese frosting (We used Betty Crocker)

Simple Oil Baking Spray

Green cupcake liners

Cupcake pan
Steps:
Preheat the oven to 375°F

Mix the butter and sugar in a bowl until they are fluffy

Beat in the eggs one at a time (make sure the batter is light!)

Add the baking powder, flour, and milk and beat well until nice consistency

Add a drop of vanilla essence to give flavor

Add a drop of green food coloring for color

Spray the liners, in the cupcake pan, with baking spray

Pour the batter evenly into the liners and bake for 18 minutes

Once they are out of the oven, make sure to cool them for around 10 minutes

Decorate with your favorite toppings or cream cheese frosting! (you can always add a little green! )
Enjoy your St. Patrick's Day meal! We hope you try these delicious and fun recipes for the holiday, and love them as much as we did!