Dress The Part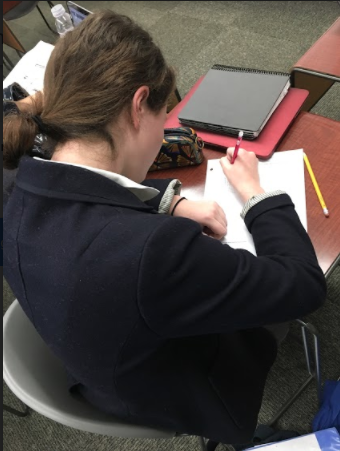 Hang on for a minute...we're trying to find some more stories you might like.
The common saying, "Dress the Part," seems to have lost its meaning at Marymount.  Every free dress day, students all over campus have opted to lounge in pajama pants or stomp around in uggs. It appears we go from one extreme to another: from our sharp blazers to sloppy loungewear. The idea that students perform better with sweatpants underneath skirts, hoodies instead of blazers, and mesh lulu lemon leggings instead of tights is championed by us Marymount girls. So of course we dress down to "finesse" our finals, ace our ACTs, and conquer the APs. But by dressing for the part of "couch potato about to binge-watch Riverdale" rather than a prepared student, a serious question arises: are we diminishing our productivity and performance?
The clothes you wear do indeed affect how you act. The growing study of enclothed cognition delves deep into the relationship between one's attire and thinking process. Charles A. Van Stockum, Jr. and Marci S. DeCaro from University of Louisville's Department of Psychological and Brain Sciences tested the effects of wearing a doctor's white lab coat.
They deduced that wearing the coat "[increased] controlled attention, due to the symbolic meaning and physical experience of wearing the coat." Participants connected their attire to the role and characteristics of a doctor, which in turn increased their own productivity.
Obviously, Marymount girls are not going to snatch a white lab coat from the science department in hopes of achieving a perfect grade, but this idea can be applied to other significant clothing. I'm sure we all remember Troy Bolton asking his basketball team about their lucky socks in High School Musical. The socks did not have magical abilities; nevertheless, they may have improved the team's playing by reminding them of victory. Furthermore, the power suit you wore to an eventful MUN conference now represents the success and confidence you felt that day. Wearing the same jacket during an important exam will fill you with the same feeling.
So maybe wearing a suit to every final is not ideal, or maybe even real pants on every free dress day. But, western business attire is not the only empowering outfit. In fact, anything that holds significant meaning can alter your actions. Correspondingly, the way you view your attire changes its meaning. We have all grimaced in disgust at the thought of wearing our blazers, maybe even compared it to a straightjacket or smuggled a hoodie into the one class the teacher lets it slide. But maybe it is time to view the blazer in a better light.
Why not put a positive spin on the jacket you have to wear anyways? Try to see past its representation of Mondays. The blazer adds warmth to cold days, has the perfect place to show all your pins, and pockets the exact size of a phone. Take it a step further by viewing it as a symbol of confidence, alertness, or student activity. If that doesn't work for you, you can always keep candy in the pockets.