Fun at Winter Formal!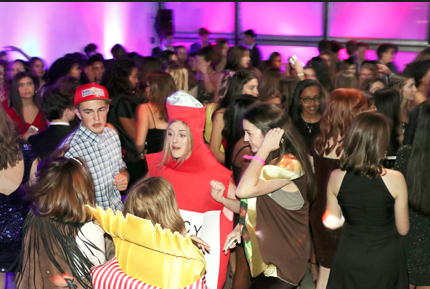 Freddie von Siemens '21, Staff Writer
March 26, 2018
With a three-floor venue, special senior VIP room, tasty taco bar and music that had us all busting a move, this year's Winter Formal was definitely one that will be remembered! ASB-CC set out to plan a formal that would be elegant, yet fun for every grade, and that goal was definitely achieved! Winter Formal 2018 was held at 800 Main, a three story house in Venice. While the stairs may have seemed daunting for all of our heel-wearing ladies, the levels added a special touch to the dance, with fun activities happening on each level. The bottom floor was almost instantaneously dubbed the dance floor, with the DJ and, of course, the tacos. The second floor, with couches and a photo booth, was a great space for relaxing and snacking with some friends! Finally, the top floor – with a stunning view of Venice – was a peaceful breath of fresh air; this was definitely necessary after all the dancing! The futuristic and modern layout of 800 Main was perfect to get everyone in the dancing mood, and the DJ's tunes had high heels flying off left and right as everyone started to dance. Overall, Winter Formal was filled with truly memorable moments, whether they were captured forever in our minds, or in some cute photo booth pics!