Inspiring Boldness through Virtual Reality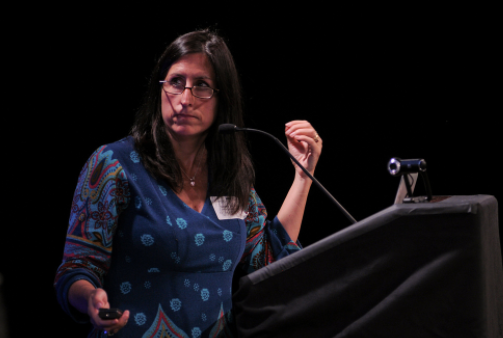 Hang on for a minute...we're trying to find some more stories you might like.
It was a regular Monday at Marymount when everyone bustled into Cantwell Hall for Community out of excitement for that day's Inspiring Boldness Speaker. This time it was Nonny De La Peña and everyone anticipated hearing her story. Nonny De La Peña is an award-winning filmmaker, journalist and most famously, the CEO of Emblematic Group: a digital media company which concentrates on virtual reality. De La Peña was raised close by in Venice, California, and in her speech, she reminisced about her interesting time in Venice High School which led her on to Harvard University and later onto USC. At Harvard she received a BA in Sociology and Visual and Environmental Studies, while at USC she received an MA in Online Communications. After Harvard, she worked for Times Magazine and Newsweek and soon became an associate producer for the HBO documentary, Death on the Job, which went on to receive an Academy Award nomination. In the mid-2000's, De La Peña and her team began to develop virtual reality pieces which would come to influence her company "Emblematic Group." In 2007, De La Peña developed her company and they soon decided to experiment with virtual headsets. In 2010, with the help of her crew, they built the VR piece "Hunger in Los Angeles". This became the first VR documentary to be exhibited at the Sundance Film Festival in 2012 and was critically acclaimed. Through Nonny De La Peña's inspiring speech, all of Marymount was left in awe about her achievements and drive, which allowed her to lead from one interest to another and eventually open up her own successful company. We look forward to seeing all of Nonny De La Peña's future endeavors and additionally, the accomplishments of all the Marymount students inspired by her and interested in the virtual reality world.