Marymount Basketball Takes on Senior Night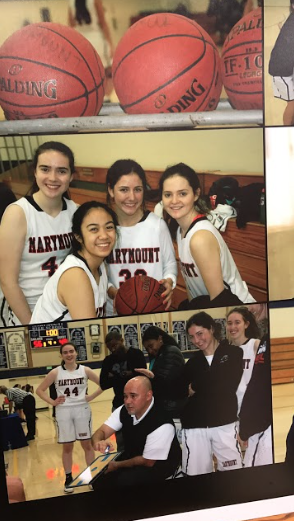 Hang on for a minute...we're trying to find some more stories you might like.
On Tuesday February 7th, Marymount's last home basketball game commenced against rivals Chaminade High School. The JV team battled it out until the end, regardless of only having six players from the entire team well enough to play in the game. Playing against one of the best schools in the state, it seemed as if the JV would have a pre-determined fate with their limited team, but this didn't stop our sailors from giving everything they had until the final buzzer rang.
Varsity was up next, showcasing seniors Naomi Smith, Emily Torp, Adrianna Silerio, and Megan Dunn. With their team to back them up, Varsity played a heated game against the highly ranked Chaminade team. With great teamwork, shots, and defense, the Marymount Sailors kept all eyes on the game. The gym was full of supportive teachers, families, and of course, the senior night posters that gave everyone a good laugh. Each senior was awarded a bouquet of flowers as a thank-you for their endless dedication and passion for basketball. It was a fun night for everyone. We will miss Sseniors!