Spirit Week – Seniors DOM1N8!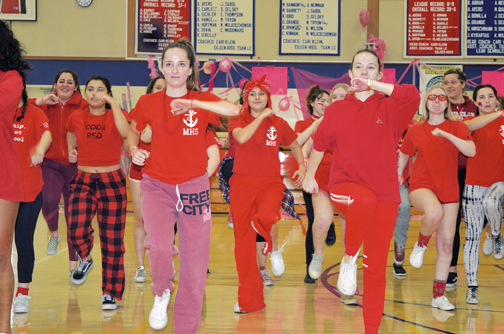 Hang on for a minute...we're trying to find some more stories you might like.
Ah, the infamous class of 2018. From the moment we stepped onto Marymount's campus as freshmen, we were . . . let's say, a spirited bunch. With a rocky start to freshman year, we got our lunch tables taken away (twice) for being too raucous and for building DIY ouija boards out of pizza boxes. Moving into sophomore and junior year, our class was simultaneously loved and feared by our teachers, as our *ahem* spirited reputation preceded us – but the current senior class is grossly misunderstood. Having grown and matured from our rebellious freshman ways, we are proud to be recognized as a class of dedicated students, passionate advocates, and close friends. Our unbridled energy and enthusiasm make us a force to be reckoned with – especially when it comes to Marymount's most competitive and anticipated time of year – SPIRIT WEEK!
Though the class of 2018 is notorious for being a boisterous bunch, our perceived weakness became our strength during Spirit Week. As a class with so much energy, SPIRIT is our middle name – and this year, we DOM1N8TED. Though our class has had its ups and downs, we have the utmost pride for winning Marymount's highest Spirit Week accolade – the Spirit Dance – FOUR YEARS IN A ROW. With each dance choreographed by Hareena Johnson ('18), the class of 2018 has hipped and hopped their way to the top – again, and again, and again.
As Spirit Week began, this year the class of 2018 brought their A-game, with a clean-sweep victory as Cheerleaders and Football Players (High School Cliché Day), Senior Citizens (Circle of Life Day), and Firemen (Heroes and Villains Day). On Class Color Day, the seniors, decked out in red from head to toe, danced their way to victory. Walking away as both four-time dance winners and Spirit Week Champions, the seniors came, they danced, they conquered. Whether or not we are remembered as "the class who got their tables taken away," the legacy of the class of 2018 will live on. Our chants of "Bleeding red! Bleeding red!" will forever echo through Pavillion in the many Spirit Weeks to come, and we will always be known as "the Spirit Week Dance Champions" . . . back-to-back-to-back-to-back!