A Spotlight on DTASC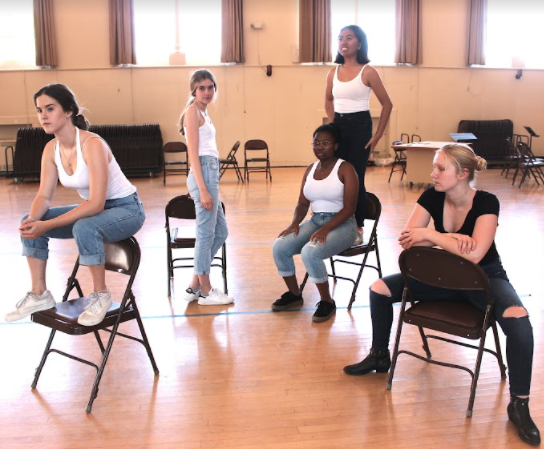 Hang on for a minute...we're trying to find some more stories you might like.
Imagine acting out a murder mystery with only four chairs. The proposal sounds daunting, but Marymount's talented actresses gladly take on the challenge. Enthralling audiences both on and off campus, these students craft hilarious, suspenseful, and heart-wrenching scenes that flow so smoothly that props seem unnecessary.
Just who are these brave, creative minds? Marymount's one and only legendary DTASC team, of course! As part of the Conservatory Arts Program (CAP), they master the art of drama by writing stories, penning scripts, coordinating movement, and performing their scenes for others.
After class on October 26th, DTASC electrified the entire performing arts community in Cantwell Hall to prepare for their competition at Calabasas High School that weekend. The girls reenacted original works such as "The Desperate Housewives of the Middle Ages," a thrilling detective story, and a breathtaking depiction of disillusioned nurses in the Vietnam War. And those chairs? They made a few memorable appearances, as the DTASC team rode them like horses and even arranged them to construct an elaborate helicopter.
Despite being a Marymount sensation, their performances dazzled more than just their friends and faculty. Regarding the team's performance at their recent DTASC competition, senior Elle Lavin eloquently summarizes, "Our scene kept getting better as we got further into the competition and our energy and passion kept increasing." She continued, "DTASC is a family. I got so much closer to and developed a tight bond with my castmates as we had to really trust and depend on each other." On October 28th, Marymount High School brought home the 4th place trophy out of two thousand students from the Drama Teachers Association of Southern California (DTASC). Recognizing Marymount's stunning Vietnam War scene, Elle Lavin '18, Yasmine Yemofio '18, Chelsea Worrell '18, Zoey Swisher '19, and Taylor Thompson '20 were particularly praised for their work. The DTASC team triumphantly returned to Marymount, performing their award-winning act at an all-school assembly on November 13th. The school roared in applause.